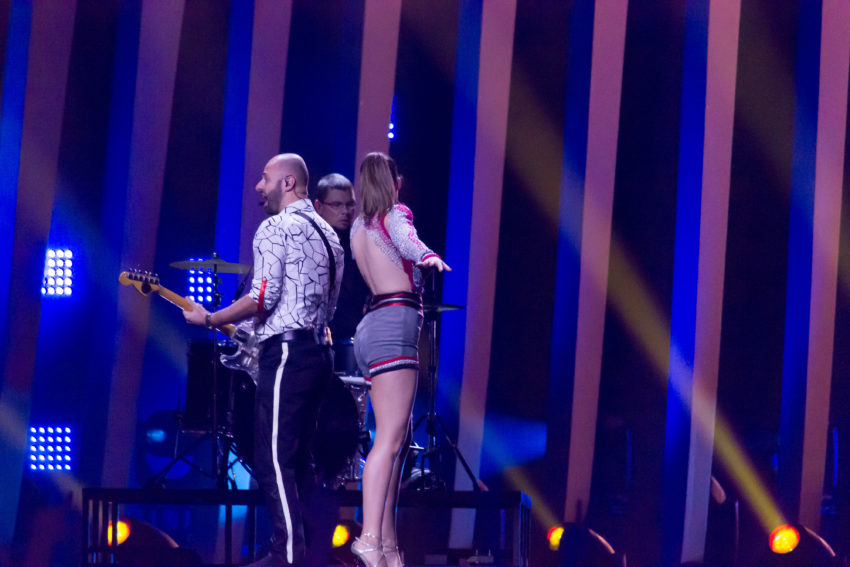 Were they really the worst dressed act this year? The fans have spoken and yes, they were – as today they was awarded with the Bababra Dex award. It is not known which part of the two stage outfits people found worst. 
The Barbara Dex award has been awarded since 1997 to the worst dressed act of the year. It is named after Ms. Dex who represented Belgium at the Eurovision Song Contest in 1993.
According to songfestival.be, it was not a close race this year. Eye Cue were leading all the way. In the following positions we found Australia's Jessica Mauboy (2nd), Sennek from Belgium (3rd), Vanja Radovanović representing Montenegro (4th) and finally also this year's winner, Netta from Israel (5th).
So far, no winner has won it before, and in recent years, the prize has gone to artists who scored low at Eurovision as well, but previously that hasn't been the case.
In 2007 Ukraine's act Verka Serduchka came second, but won the Barbara Dex award. in 2003, t.A.T.u. won it, after a third place at the contest representing Russia. In 2012, Albania's Rona Nishliu impressed many with her voice, but not her outfit. She returned home with a good 5th place from the Eurovision Song Contest, but was afterwards awarded as worst dressed act of the year.
Barbara Dex award winners
| | | | |
| --- | --- | --- | --- |
| Year | Country | Artist(s) | Placement |
| 2018 | FYR Macedonia | Eye Cue | 18th in semi-final |
| 2017 | Montenegro | Slavko Kalezic | 16th in semi-final |
| 2016 | Croatia | Nina Kraljic | 23rd |
| 2015 | The Netherlands | Trijntje Oostershuis | 14th in semi-final |
| 2014 | Lithuania | Vilija Matačiūnaitė | 11th in semi-final |
| 2013 | Serbia | Moje 3 | 11th in semi-final |
| 2012 | Albania | Rona Nishliu | 5th |
| 2011 | Georgia | Eldrine | 9th |
| 2010 | Serbia | Milan Stanković | 13th |
| 2009 | Hungary | Zoli Ádok | 15th in semi-final |
| 2008 | Andorra | Gisela | 15th in semi-final |
| 2007 | Ukraine | Verka Serduchka | 2nd |
| 2006 | Portugal | Nonstop | 19th in semi-final |
| 2005 | FYR Macedonia | Martin Vučić | 17th |
| 2004 | Romania | Sanda Ladoși | 18th |
| 2003 | Russia | t.A.T.u. | 3rd |
| 2002 | Greece | Michalis Rakintzis | 17th |
| 2001 | Poland | Piasek | 20th |
| 2000 | Belgium | Nathalie Sorce | 24th |
| 1999 | Spain | Lydia | 23rd |
| 1998 | Germany | Guildo Horn | 7th |
| 1997 | Malta | Debbie Scerri | 9th |