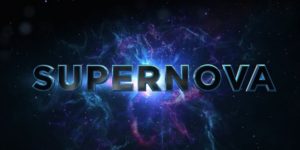 Latvia have announced the songs that will compete in the Supernova competition 2017. Latvia have used this show to pick their entry for the last two years.
Aminata has been the winner of both Supernova contests, first as a performer in 2015, then as a writer in 2016. It seems this year she is focused on Lithuania, so let's take a look at what Latvia have to offer.
There will be 22 songs competing in two quarter finals. The top four from each week will face off in the semi final. Eight acts will compete in the semi, where the top four will proceed to the final.
The Men
The men are led this year by Markus Riva, making his fourth appearance with the self penned song Dynamite. It is a solo boy band type song but Markus' vocals continue to improve. Competing alongside Markus will be:
Edgars Kreilis – We Are Angels – An electronic number which builds as the song progresses
First Question – Naked – Song is not as saucy as the title indicates but is very experimental
Lauris Valters – Magic Years – A bit of a nondescript pop song
Miks Dukurs – Spiritual Priest  – An anguished pop ballad
Miks Galvanovskis – Runaway – A country tinged dance number
Pikaso – U (can Keep Your Cools) – Rapping Eminem style with gospel style chorus
THE HiQ – Таю От Любви – The only song sung in Latvian in the contest, a little arty
The Ludvig – I'm In Love With You – A nice love ballad, similar to Cyprus' The One Thing I Should Have Done
Toms Kalderauskis – We Won't Back Down – A soft rock-type song with a noisy chorus
The Women
There are five female singers:
Anna Zankovska – Rage Love – A catchy uptempo modern pop song
Katrina Cirule – Blood Runs Quicker – To date, this song has not been heard but Katrina is a gospel singer
Katrine Lukins – Silhouette – A Zara Larson-type pop song
Linda Leen – Who Is In Charge –  Indie pop with loud vocals, tune all over the place
Santa Danelevica – Your Breath – Breathy vocals sounding a bit like Emeli Sandé
The Groups
Rounding up the line up are seven groups. Leading the pack here is My Radiant You with the song All I Know. The verses sound very much like Kings Of Leon's Sex On Fire.
The other groups are:
Franco Franco – Up – This mixed sex quartet is a female-led electro pop song
Laura Lo and Chris Oak – Little Weird – The girl sounds like Roxette, a nice little love duet
Rock'n'Berries – Feel The Love – An old school dance song from this quintet, the most uptempo of the bunch
Triana Park – Line – Electronica again, upbeat and very modern from the quartet
UP – One by One – Airy vocals on an old-fashioned folk song
Crime Sea – Escape – This song has not been published yet.
Two shows to introduce the acts are to be held on 22nd and 29th January, when it will be revealed in which heat each act will compete. The heats are held on 5th and 12th February. The semi final will be held on 19th February, and the final is on 26th February. Will the Riga beaver make an appearance or will they have set him free, back to the forest?
Latvia In The Eurovision Song Contest
This year will see Latvia compete at Eurovision for the eighteenth time. Their debut came in 2000 with the third placed My Star by Brainstorm. With Marie N winning only two years later with I Wanna, it seemed as if Latvia were going to be one of the top performing countries of all time.
However it wasn't to be, and, in the next twelve years, Latvia only made the Top 10 one more time. This was in 2005 with Walters and Kazha with The War Is Not Over. In fact they did not qualify to the final for seven years, between 2009 and 2014.
Their fortune changed in 2015 when Aminata took Love Injected to sixth place. She then wrote the highly fancied Justs entry last year, Heartbeat. The song placed 15th. It remains to be seen if Latvia's luck will continue this year without Aminata.