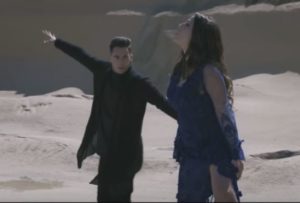 Ira Losco, Malta's 2016 representative has just revealed some interesting details about her live performance at the upcoming Eurovision Song Contest. The 34-year old artist will be accompanied by the Skorpion Dancer who also appeared in her music video.
Last week, Ira Losco released her 2016 Eurovision Song Contest entry Walk On Water .Today, the Maltese artist has told that the Skorpion dancer who appeared in her music clip  also will be part of Ira's live performance in Stockholm in May.
Skorpion is a French hip-hop dancer and performer who has been touring with big names such as Kylie Minogue, Taylor Swift and Madonna. He further took part in the Red Bull Dance competition Beat It back in 2011 and reached the final of France's Got Talent 2009. In the video below you can see the artist in action.
How much do you know about Ira Losco? Check your knowledge in the quiz below.
Ira Losco (Malta 2016)
Do you know what Ira Losco do just before she goes on stage? Check your knowledge about Ira Losco in this quiz.
In Malta's official video clip the dancer interacts with the representative Ira Losco and adds dynamics through his moves. The mentioned dance movements make an impression on the viewer and are giving the video a modern character. Down below you can check out Ira's 2016 clip which also includes the mentioned dancer and get a first impression of what can be expected to happen on Stockholm's big Eurovision stage: