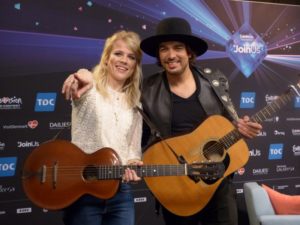 2014 runner up Waylon is going for a second time. Today, he was surprisingly announced as the Dutch representative for the 2018 Eurovision Song Contest. He is the fourth artist chosen for the contest held in Lisbon, Portugal. 
Waylon is no stranger to Eurovision and the many fans. He represented the Netherlands at the 2014 edition. Back then, he performed together with Ilse DeLange as The Common Linnets. With the song Calm After The Storm they came second. This time all focus will be on him.
The Netherlands are the fourth country to announce their artist for the 2018 Eurovision Song Contest despite the fact that we are not even half way through November. This is quite an unusual situation.
In the video below, take a look at the Dutch second place from 2014 with Waylon and Ilse DeLange.
The Netherlands at the Eurovision Song Contest
In recent years, the country did rather well, but that came after quite some struggling. The Netherlands failed to reach the final from 2005 to 2012. Fans were really frustrated, but then came the announcement of Anouk representing the country in 2013, and things changed. She marked in many ways the beginning of a new area where the Dutch broadcaster took things a little more serious and went for bigger well known names. The results improved, and the Netherlands once again look like a serious contender to soon take the trophy home.
The country joined the Eurovision Song Contest in its first year, 1956. They have won the contest four times, although the last one dates back to 1975. Could Waylon improve his second place from the contest in Copenhagen, Denmark in 2014? We have to wait and see, but expectations surely will be high.