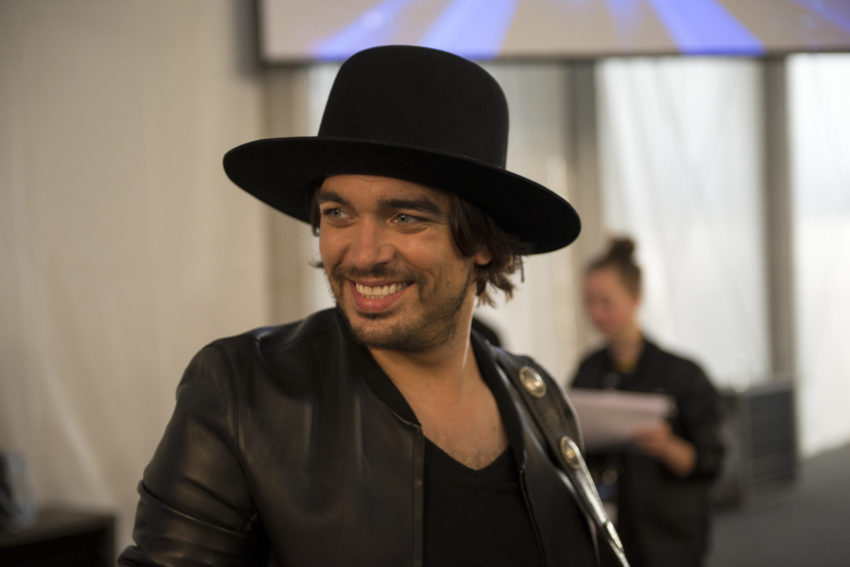 After five songs presented to the Dutch public, Waylon today revealed that he will compete with Outlaw In 'Em at the 2018 Eurovision Song Contest. If he is to improve his second place from 2014, we are in for a Dutch victory.

Dutch broadcaster AVROTROS was among the very first countries to announce their representative for the 2018 Eurovision Song Contest, when they announced Waylon already in early November last year. This will be Waylon's second participation, as he also took part in 2014 as one half of The Common Linnets. Together with Ilse DeLange they came second at the competition in Copenhagen, Denmark.
Five songs were presented to the Dutch public in the popular TV talkshow De Wereld Draait Door (The world keeps spinning). It was only revealed that one of those songs will be his entry, and that all five would be included on his coming album.
Out of those five, it has been Waylon himself to make the final decision. As he described, all members of the selection committee got their two minutes to have their say and in the end he picked the song.
Tonight, he revealed his choice for Outlaw In 'Em, with which he will participate at the 2018 Eurovision Song Contest.
The songs
Text and music for four out of the five songs are written by Waylon himself. Only song nr 4, That's How She Goes, isn't his own work. That was performed back in 2015 by Nashville, Tennessee country singer Mitchell Tenpenny. Waylon himself explained that he understands EBU's rules as if a song hasn't been released on CD, it is clear to participate. Tenpenny's song appears to only be available on YouTube as such it would be right, according to Waylon. Those with more knowledge of the rules know that this isn't entirely correct, and that this song could still face disqualification had he chosen that one.
It wasn't my first choice.

– Cornald Maas, Dutch Eurovision expert, about Outlaw In 'Em
Let's take a closer look at the five songs.
Back Together
A country ballad featuring rather a rather typical Eurovision melody line. Former Eurovision commentator, well known singer, presenter and comedian Paul de Leeuw immediately responded: "No, it won't be this one. I'm sure we'll hear a better one later, but don't pick this one".
Outlaw In 'Em
Song number two has a lot more edge, and has a sound that's further away from what you would typically find in a Eurovision song. It's rock meets country, with a hint of Elvis and rockabilly. He accompanied himself on guitar, though that's most likely mime. He previously stated that he would play all the songs with backing track and no live music, just as he will have to do it on the Eurovision stage.
Was received very well by the audience, who were already in a good mood after having celebrated the Dutch olympic medalists for a whole episode.
With this song, we can win or lose – but either way we can say we did our best. This music hasn't been done at Eurovision before.

– Waylon
The World Can Wait
Easy going, country inspired balled. Sounds alright as very enjoyable track 4 on an album, but doesn't seem to hit home at a first listen. This song's title is also the name of his upcoming tour, starting in April and ending well after the Eurovision Song Contest, in September.
That's How She Goes
One can still clearly recognize Waylon's country sound, but this fast paced song seems more inspired by pop music than the others. Very catchy, and easy to sing along to, if you can keep up that is.
Thanks But No Thanks
Clearly the most advanced track of them all. It starts out as another calm, and easy going and very accessible country ballad. Think Tom Waits, but without the whiskey voice. As the song progresses, it gets more and more rough in the edges. An electric guitar on the bridge turns this song into full-on rock near the end. Among the five songs, this is by far the easiest to sing a long to.
Guests in the studio, among them 1988 Dutch participant Gerard Joling, all agree that Waylon should pick this as his entry. They also acknowledge him as rather stubborn, and thus are sure he'll follow his own mind.
In the video below, take a look at the Dutch entry for the 2018 Eurovision Song Contest.
De Wereld Draait Door consistently gets approximately 1.5 million viewers at a marketshare of 25%, ranking typically between second and fourth most watched program of the day.
The Netherlands at the Eurovision Song Contest
In recent years, the country did rather well, after struggling quite a bit in the years before that. The Netherlands failed to reach the final from 2005 to 2012. Fans were really frustrated, but the announcement of Anouk as their hopeful for 2013 changed the public sentiment around. She marked in many ways the beginning of a new era where the Dutch broadcaster took their participation a little more serious, and went for bigger well known names. The results improved, and the Netherlands once again look like a serious contender to soon take the trophy home.
The country joined the Eurovision Song Contest in its first year, 1956. They have won the contest four times, although the last one dates back to 1975. Could Waylon improve his second place from the contest in Copenhagen, Denmark in 2014? We have to wait and see, but expectations surely are high.
The Common Linnets reached a second place with 238 points, 52 points less then 2014 winner Conchita Wurst.