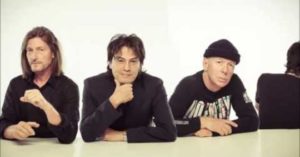 Vlado Kalember and Srebrna Krila, who previously represented Yugoslavia in the Eurovision Song Contest, are back together as they this summer launched a new song. Last Friday, they also released the video for the song which recalls the memories of young days.
66-years-old Vlado Kalember took part at 1984 Eurovision Song Contest held in Luxembourg. Together with Izolda Barudžija he performed the song Ciao Amore, which finished 18th in the final.
Srebrna Krila (Silver Wings) participated at 1988 contest in Dublin. Their song Mangup came 6th. Throughout the 1980s and 1990s the band went through a series of different incarnations. When their founder, Mustafa Ismailovski Muc, died back in 2000, Srebrna Krila disappeared from the Croatian music scene.
Vlado Kalember and Srebrna Krila have always had a special connection as Vlado was the lead singer when the band was created in 1978. However, Vlado left the band 8 years later as he started his solo career.
Srebrna Krila and Vlado reunited in 2012, when they played a number of concerts in the former Yugoslav republics. Since then they have released two singles: Još Da Mi Te Jednom Ljubit (2017) and Opušteno (2018).
The new song Je Li Ti Žao Zbog Nas, which translates to Are You Sorry For Us, is a very emotional ballad – a look back on those days when we were young. With his recognizable, crispy voice Vlado is reflecting on the early days of childhood with sadness – like he wants to turn back time – as he describes it to the best period in his life.
Je Li Ti Žao Zbog Nas was written by Neno Ninčević, while Vlado Kalember composed the song. Ninčević has earlier been part of the Eurovision circuit as he co-wroted Croatian Eurovision entry Kada Zaspu Anđeli back in 2000.
In the link below, you can watch Vlado Kalember's and Srebrna Krila's latest video: