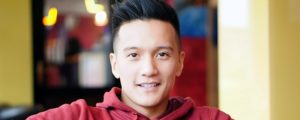 The fifth Eurovision contender for the Eurovision Song Contest 2020 was selected today when Austria announces that Vincent Bueno will be their representative.
All five countries which have announced their act this year have picked their artists using internal selection. Austria have used this method now since 2017 and today Vincent Bueno was added to the list.
Vincent has actually appeared at Eurovision before. He was one of the backing singers in 2017 when Nathan Trent represented Austria with Running On Air. Vincent will be hoping he does better than Nathan, when the public decided to award Nathan, zero points.
The song that Vincent will sing is called Alive. The song has not been published yet, but there may be a hint of what it will sound like, as Nathan appeared in the last National Final that Austria held in 2016, when he was beaten by Zoe.
Back then Vincent's song All We Need Is That Love was eliminated in the first round of the final. Vincent's most popular song Into You can be watched below, signalling there may be an R and B influence in the Austrian entry this year.