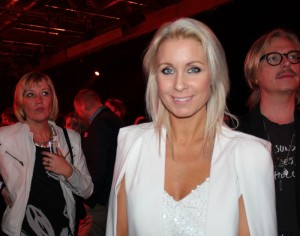 Velvet and Shirley Clamp are going to be the hostesses at the Euroclub. During the two weeks when the Club is open, from 2 to 14 May, it will be the place where performers, delegations and fans gathers in the evenings.
Velvet and Shirley will be joined in the evenings by guests who have been seen in both Melodifestivalen and the Eurovision Song Contest.
"Each night we will make sure that EuroClub delivers high quality and will be the greatest party of all time. We will have several shows, not only with me and Shirley but also with guests" says Jenny "Velvet" Pettersson. Who these guests are will be known at a later stage.
Both Velvet and Shirley has a many years of experience from Melodifestivalen. Velvet has been seen both as dancer and singer in Melodifestivalen where she sang Mi Amore (2006), Déja Vu (2008) and The Queen (2009).
Shirley Clamp was one of the backing singers to the greek entry Die For You in 2001 and made her deubt as a singer in Melodifestivalen 2003 with Min Kärlek. Then followed Min kärlek (2004), Att älska dig (2005), Med hjärtat fyllt av ljus (2009), I Thought It Was Forever (as part of the group Shirley's Angels in 2011) and Burning Alive (2014).
About EuroClub and Euro Fan Café
EuroClub och Euro Fan Café will be located at Skeppsbron in front of the Royal Palace in Stockholm. Euro Fan Café has three rooms with different concepts and four bars. There will be a large lounge room in two floors with a stage and two bars, a smaller room with a bar and stage, and also an outdoor terrace with a bar.
As Euro Fan Café shuts down for the public at 8 pm the Fan Café will be come integrated with EuroClub. Accreditated fans och media will be moving freely between the Café and Club. In the part of the building that will be EuroClub there will be another three bars and a large stage for the participating artist can perform.
EuroClub access is included in the accreditation of journalists, artists and delegations.
3 000 fan-accreditations valid for EuroClub and Euro Fan Café will be sold to OGAE-members.