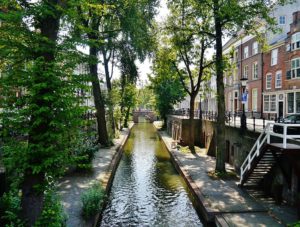 In the Netherlands, quite a lot of cities wants to host next year's contest. And it's not just the largest and most well known cities who see themselves cabable of doing so. Utrecht and Den Bosch are currently working on their bids ready to soon be submitted.
We could see quite a high number of Dutch cities submitting bids to host the 2020 Eurovision Song Contest. Many have expressed their interest in doing so. Seven cities spoke out saying that they requested the material with the requirements; Maastricht, Rotterdam, Arnhem, Utrecht, Amsterdam, Leeuwarden and Den Bosch. It is likely that other cities did too, but are hoping to fly under the radar for now. Enschede havde previously been very enthusiastic, but it's not known whether or not they still hope to host the contest in an airport hangar.
One thing however is to join in to get some publicity before they knew the requirements. It's something entirely different when actually working on their bid books. Smaller cities likes Zwolle, Groningen and Tilburg seems to have realised that they don't have the required capacity. The latter however joined Den Bosch in their bid.
Utrecht and Den Bosch ('s-Hertogenbosch) have both spoken out saying they are actually working on their projects making them ready to be officially submitted within a few weeks.
While Utrect is the fourth largest city in the Netherlands with 345.000 inhabitants, Den Bosch is significantly smaller with 136.000 people living there. Utrect is located basically in the middle of the country, and we have Den Bosch approximately 80 km south of Amsterdam.
The city is in the center of the country, we love music and culture, and we have the resources.
It requires much more than just a large arena to host a Eurovision Song Contest. The hotel capacity must be sufficient. The arena must have space for the TV production, commentator boxes, green room and stuff like wardrobes and hair dressers. The city needs to have space for Eurovision Village, EuroClub etc too.
We have sent an official letter and asked what demands NPO, AVROTROS and EBU have. We'll translate those demands to an inspiring bidbook. So, we haven't sent this bidbook just yet.