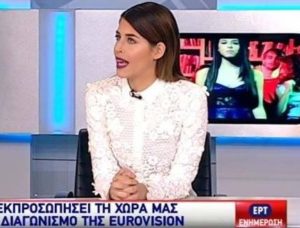 During an interview with the Greek public broadcaster, Demy appeared enthusiastic about the prospect of representing Greece at this year's Eurovision. The young singer also revealed details about the ERT's decision of an internal selection as well as about the national final entries and their videos.
As we reported earlier today, Demy will soon be visiting Ukraine to shoot the videos for the three songs that will compete at the Greek national selection. During an interview for ERT's Enimerosi stis 10 (Briefing at 10), Demy, who is currently starring at the Greek version of an internationally successful stage musical, revealed the Ukrainian location of the video shooting: 'The videos will be shot in Odessa so that we also showcase Greek elements of the Ukrainian city. There will be, of course, a limited promo tour due to my theatre commitments for Mamma Mia.' 
I love Eurovision, I've become a fanatic this year!
The singer also revealed how her involvement with Eurovision came about this year: 'I love Eurovision. I was not a fanatic follower before but I've become one this year! In previous years, circumstances were not suitable for me to compete. It was the team that made me say "yes" this year even though I had wanted to get involved in the contest last year, too. (This year) Dimitris Kontopoulos and Fokas Evangelinos (popular composer and choreographer whose numerous Eurovision successes include the Russian entry last year) were internally selected as it is a dream team we're talking about'
Demy also spoke about her own feelings right now: 'For my part, I want to enjoy every moment but I have to keep calm about all this musical European journey. It is of course a difficult project and it requires a strong stomach. We'll do well. We want it and we know it! It will be a good and decent entry.'
We'll do well. We want it and we know it!
The popular singer gave more specific information in regards to the country's national final and the musical style of its three entries, too: 'three songs have been written and it will be the public that will choose the entry in the end of February or beginning of March. All musical tastes are covered, from dance to ballad. We have been collaborating with Dimitris Kontopoulos for many years. I trust him completely!'