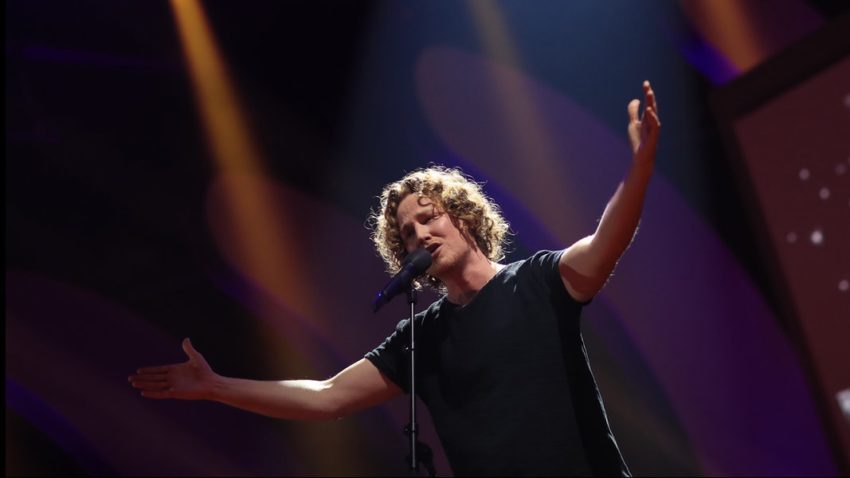 Germany has decided. It will be up to Michael Schulte to change their recent poor Eurovision results. The outcome tonight was decided in a three-way split between the public vote, a big Eurovision fan panel and an international jury.
Tonight, it was time for Germany to decide which act and song they were going to send to Lisbon in order to represent the country at this year's Eurovision Song Contest. Unser Lied für Lissabon featured six acts, each with their own song written at a recent songwriter boot camp.
The decision was divided between three parts, each worth 33% of the decision: an international jury panel built off 19 judges that featured names such as Ruth Lorenzo (Spain 2014) and Margaret Berger (Norway 2013), a panel of Eurovision fans (who applied online) and, of course, the German audience.
The Show
Held in Studio Berlin Adlershof, the first images of the show started at 20:15 CET sharp as scheduled. Unser Lied für Lissabon was hosted by Linda Zerkavis, in a dark blue pant-suit, and Elton, wearing trainers and jeans.
The circular stage allowed for a lot of coloured lights and for plenty movement for the artists.
The interval act was rapper Mike Singer, who performed his song Deja Vu. There was also a montage of this years chosen entries from Switzerland, Albania, France, United Kingdom (she was called an Annie Lennox look a like) , Spain and Czech Republic.
The participants and songs
Natia Todua – My Own Way
After a postcard of Natia spending the day shopping, the show began. Natia won the seventh season of the Voice of Germany. In a white contraption, Natia has a voice like Amy Winehouse. Two female backing singers helped the anthemic chorus along. Natia engaged with the audience as the song reached its climax, garnering a lot of applause.
Ryk – You and I
Ryk was shown in black and white visiting with an orchestra in his postcard. Seems he very much likes to be in a studio recording. Ryk sits at his piano while a young lady writhes on top of it, acrobatic style. The ballad is very intimate. At the chorus, our acrobat turns into a ballerina. A string quartet adds some more drama to the song. The song really rises towards the end, drawing much applause. Clearly a very personal song to Ryk.
voXXclub – I Mog Di So
Chilling in the snow is how five-piece voXXclub like to entertain themselves when they're not performing. It would be fair to say that the difference between Ryk's and this song, is chalk and cheese. The group warmed up in a barn before taking to the stage. A bit of yodelling starts the song and the schlager begins.  Knee-slapping, a catchy beat and a barely choreographed dance routine followed. Great for the Munich Beer Festival, but will Germany rate it high enough to send to Lissabon.
 Xavier Darcy – Jonah
Xavier was filmed around town performing in various locales in his postcard.This was the first of two songs co-written by Danish songwriter Thomas Stengaard. Thomas is best known as a co-writer of Denmark's winning song in 2013, Emmelie De Forest and Only Teardrops. No pipe to introduce this song, as Xavier features alone with his guitar. A slow acoustic start bursts into a vigorous chorus, and a brass instrument is added for extra effect. Another song that sounded very personal, but in a more boisterous manner than Ryk. Xavier received a standing ovation.
Ivy Quainoo – House On Fire
Ivy was filmed chatting about the very soulful music she has already released, a very pleasant listen.  Starting with a very close up shot, you could see the accessories in her ears and hair. Ivy is all dressed in black and has a very soothing singing voice. Fire shot up around the stage as Ivy performed in what looked like gold spray on. This was a simple no-nonsense song which showed of Ivy's vocals, particularly in the powerhouse chorus.
 Michael Schulte – You Let Me Walk Alone
The second of the two songs co-written by Dane, Thomas Stengaard. Again Michael was very much filmed in the studios. He could be heard singing Fly On The Wings Of Love. In front of a black and white video of Michael's memories, the singer performed his touching ballad, with a piano very much in the background. Germany seems to have gone very much for simplicity this year, generally.
The Results
| | | | | |
| --- | --- | --- | --- | --- |
| Act | Jury vote | Eurovision Panel | Public vote | Total |
| Natia Todua |  5 |  6 |  6 | 17 |
| Ryk | 10 |  8 |  5 | 23 |
| voXXclub | 6 |  5 |  10 | 21 |
| Xavier Darcy | 8 |  10 | 7 | 25 |
| Ivy Quainoo | 7 |  7 |  8 | 22 |
| Michael Schulte | 12 |  12 | 12 | 36 |
Germany At The Eurovision Song Contest
Things haven't been easy for Germany lately. For the three past years, the country finished last two years in a row (2015 and 2016) and almost did it a third time, after a penultimate position in 2017 with Levina and her Perfect Life.
Nonetheless, it isn't all bad. At the beginning of this decade, Germany was crowned the winner of the competition in 2010 with Lena's Satellite. In the following two years, they also achieved top 10 results.
The country, automatically qualified for the final as a Big 5 country, are now at two victories as they also won the 1982 contest with Nicole and Ein bißchen Frieden.
Below you can watch the winning song.