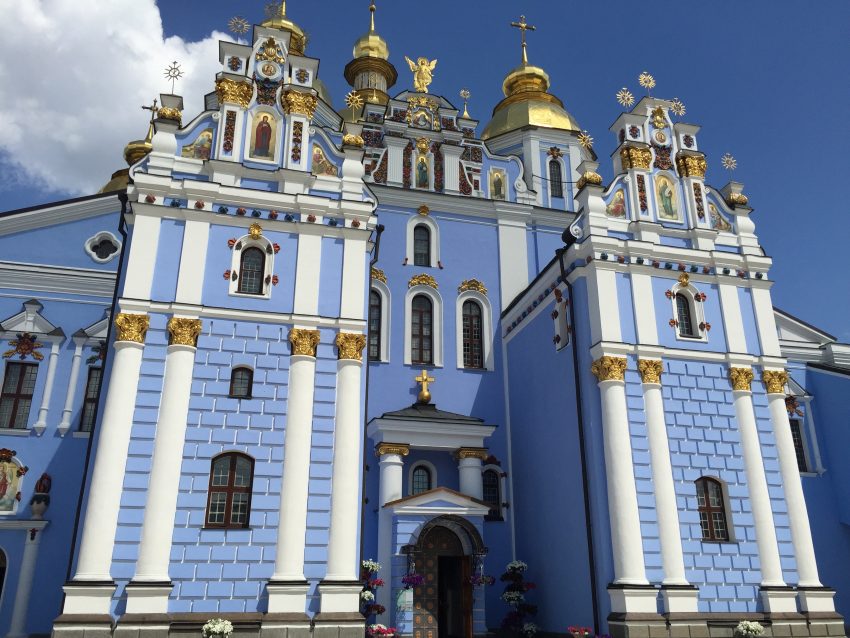 Need to know how to get to downtown Kyiv from the airport? Or which options are best to get from your hotel to the arena? Look no further. We have compiled all of the information you need about transportation in the 2017 Eurovision host city.
Ukrainian public transport is often considered one of the most cheapest and most reliable in Europe. They include Metro (most popular) and are followed by trolleybuses, buses and trains. You can get to practically everywhere in Kyiv using public transport.
I am British, but with relatives in Ukraine, I have been to Kiev several times. Here is my ultimate guide to transport in the city.
Getting from the airport to central Kyiv
I want to first of all mention that the Ukrainian currency is a closed currency and it can be difficult to purchase before you travel. The first thing that you should do is find a cash point at the airport and withdraw some money or visit the Обмін Балють (bureau de change). I wouldn't advice you withdrawing/ exchanging all of your money at the airport as the exchange rate won't be as good as places in Kyiv. But you will need money to use the transport systems, which ever way you decide to travel.
Arriving at Kyiv Boryspil Airport
Kyiv Boryspil is the main international airport in Kyiv. There are different options in getting to central Kyiv from Boryspil airport. It all depends on your budget and your patience.
Taxi is probably the easiest, fastest and most comfortable method, but it is more expensive than the Metro. The price would be anywhere between 350-800 UAH (12-30 euros) depending on whether you get a minibus or regular taxi. The taxi journey will typically take around 35 minutes depending on traffic conditions.
When I was last in Kyiv in 2016, there was a new Taxi stand in the arrivals hall of Boryspil airport. If you are there and tell the kiosk clerk where you are going then he/she will calculate the cost and print you a sales receipt. You then take this to one of taxis that are outside of the terminal and give it to them. You will no doubt be paying more than what a local would, but you will have piece of mind knowing the price before you get in the taxi.
The cheaper way is to get the bus from the airport to the main train station in Kyiv. From there you can get the metro to central Kyiv or to your hotel. The total journey will take around 1.5 hrs.
The Sky buses depart regularly from Terminals B and D and will cost you 60UAH (0.55 Euro) for a single journey. They run 24 hours a day but become less frequent during the night. They are purple in colour so you can't miss them. Follow the signs in the airport, these are now in English. Once you get to the train station there will be an additional charge for the metro (see below).
Arriving at Kyiv Zhulhany Airport
Kyiv Zhulhany airport is located nearer to downtown Kyiv than Boryspil at about 9km. Again a taxi is the easiest and most comfortable option but is more expensive than using the public transport methods. You can pick up a taxi outside of the terminal buildings. Please see below for more information on using taxis in Kyiv.
The use the public transport you can get either a trolleybus or a mini bus. The bus stop is located 200m from Terminals A and D. Trolleybus number 22 to syrets metro station departs every 10-15 minutes and costs 3 UAH. You will need to get off the bus at Shuliavska metro station. From here you can get the metro to Kreschatyk station (5 stops away) where you will be in central Kyiv. This will cost 4UAH. From here you can change lines to get nearer to your hotel if it is not located near by.
Getting around in Kyiv
Metro
Each single journey on the metro costs 4 UAH (0.14€, £0.12). You must purchase a metro token, known locally as a Zheton) at the station by either machine or from the cashier. These tokens are then placed into the turnstile which will then allow you to pass through.
The metro is the most quickest way to get around Kyiv. Personally, I would take this mode of transport over any.
Arsenalna metro station in Kyiv is the deepest station in the world at 105.5 metres deep. The journey from the station to get out to the street is a 5 mile escalator climb. The metro stations in Kyiv usually require a fair climb down some stairs. They do have some wheel chair ramps, but these are very steep!
Taxi
Taxis are also a good way to get round, more specifically to and from the airport. However, this can be a risky business. Never get into an unregistered taxi and if you are unsure, always get your hotel to call a local taxi firm. Another important thing is to always confirm the price with the driver before getting in the car. If you encounter a language barrier say to the driver "Na Pishit'" (Write it down). A couple of years ago, my family of 10 got into 3 taxis, we all departed and arrived at the same place. One driver charged 300 UAH, the second 350 UAH and the third 500 UAH. There was not much we could do as we had already made the journey.
Car
While the roads in Kyiv are great in comparison to the rest of the country, I would advise against any foreigners hiring cars or driving in Kyiv. Unfortunately, what you might have heard about the police in Ukraine is often true and police often pull over cars in the hope of a bribe. The police are good at identifying cars that have been hired, from another country or different region in Ukraine and will waste no time in pulling you over. Usually the police will accept 100UAH bribe, which in the scheme of things is not a lot of money
One time, when I was travelling into Kyiv from another city, we were pulled over by a policeman who was obviously seeking a bribe. Luckily I had my video camera with me and I had my work ID badge still in my handbag. Before he could say anything we told them that were were British journalists filming a documentary corruption in Eastern Europe. After a short pause he told us to have a safe trip and we went on our way. So, maybe if you are press and have your press badges and recording equipment with you in the car then you might get away with it. Hopefully the police will be warned against doing such things during the Eurovision weeks.
Trolleybus
Trolleybuses are essentially buses run by electricity, they are connected to the electricity by overhead wires. They can take you almost anywhere in Kyiv and are frequent and reliable. They run between the hours of 06:00-22:00. Each journey on the trolleybus costs 3 UAH and this is paid to the driver. If the trolleybus is especially full and you get on in the middle of the trolleybus then this is passed down to the driver by each passenger. Good old fashioned team work. Alternatively, you can buy tickets from kiosks and these are punched by the driver.
Walking
Needless to say that, if you are not in a rush to get anywhere then walking is the best transport method for exploring the city. Kyiv has some fairly steep streets so I would advise that you wear sensible shoes. You will see lots of young Ukrainian girls tottering around in sky scraper heels – honestly, I don't know how they do it!
Kyiv Funicular
The Funicular in Kyiv is one of only two in the entire country. The second one is located in Odessa. The Funicular is an easy to get from the upper part of the town to the city centre and vice versa. The trip lasts approximately 3 minutes costs 3UAH. You need to buy a token and put this into the turnstile before getting on. The Funicular is perfect if you have walked down Andriy's Descent and don't have the energy to walk all the way back up to get to the centre.
If you have any questions about transport in Kyiv please make a comment on the article, and I will try to help as much as I can.
Useful words and phrases for using transport in Kyiv
Вокзал – Vokzal – Train Station (You can follow this with the name of the station)
Метро– Metro – Metro (You can follow this with the name of the station)
Каса – Kasa – Cashier/Ticket office
Скілький це коштує до …? – Skil'ky tse koshtuye do …? – What is the cost to…?
Я б хотів одін квиток до.. – Ya b khotiv odin kvytok do … – I'd like one ticket to…
Майдан – Maidan – Independence Square
Міжнародний виставковий центр – Mizhnarodniy vistavkoviy tsentr – International Exhibition Centre (ESC Venue)
Будь ласка, напишіть – Bud' laska, Napishit' – Please write it down
Bи говорите по Английски? – Vy hovorite po Anhliyskiy? – Do you speak English?