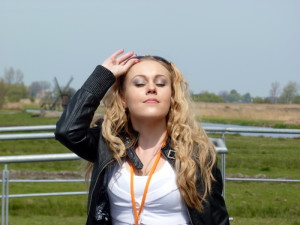 Is Tina Karol the most beautiful artist in Ukraine? Or maybe you think that Zlata Ognevich is more beautiful, or even Jamala? Ukraine's VIVA magazine want to know who you think is the most beautiful artist of Ukraine. 
Since the 19th January, Viva magazine has held a competition to find out who is the most beautiful person in Ukraine. Included in the line up is a long list of Eurovision stars. There are two categories: one for the men and one for the women.
The nominees include:
Tina Karol – Currently leading with 26,336 votes.
Tina Karol represented Ukraine at the Eurovision Song Contest in 2006. Show Me Your Love came in eighth position in the grand final. Finland's Lordi won the contest that year with Hard Rock Hallelujah. Since competing in Eurovision, Tina Karol has become one of the biggest artists in Ukraine and was the first Ukrainian artist to have her own Vevo page on YouTube. Tina is currently a judge on Ukraine's The Voice and even judges on the children's version of the show.
In addition to her work on The Voice, Tina has also been involved with charity work. She was the face of UNICEF and Louis Vuitton's #makeapromise campaign. The campaign's aim was to raise money for children affected by war disasters.  Since her time on Eurovision, Karol has also wrote a children's book, and filmed a popular Christmas Eve film called The History Of Christmas With Tina Karol.
Zlata Ognevich – 3,139 votes
Zlata won Europe's heart with Gravity in 2013, but, unfortunately for her, she didn't win the Eurovision crown. This went to Emmelie De Forest from Denmark. Zlata has released a few songs since her performance at Eurovision but none have really set the world alight.
In 2013 Zlata co-hosted the Junior Eurovision Song Contest with Timur Miroshnychenko and a year later she collaborated with Eldar Gasimov in the song Ice & Fire.
Zlata is currently the face of brand Couture de Fleur.
Svetlana Loboda – 3,872 votes
Loboda represented Ukraine in 2009 with the song Be My Valentine which came in twelfth place. She has been releasing music in Ukraine since 2004 and her latest album was released only last year.
The past couple of years has been a complete reboot to her image and music. Now going by just her surname, Loboda, her music career has soared in Ukraine.
Alyosha – 6,390 votes
Alyosha represented her country in 2010 when the contest came to Oslo. Her song Sweet People earned her a top 10 position in the grand final. There was some controversy with her entry that year. Originally, it was Vasyl Lazarovych who was meant to be representing Ukraine at the contest but an additional national selection took place and Alyosha was eventually selected. Sweet People was her second choice as a song. To Be Free was the original song that people had voted to be used in the contest but it was later realized that the song had been previously released in 2008, meaning that another song needed to be used.
Alyosha is married to a fellow musician, Taras Topol, and is now a mother of two sons. During her second pregnancy, she created a popular video blog. #alyoshamamavlog
Jamala – 4,564 votes
The current Eurovision champion Jamala is also in the running for the most beautiful person in Ukraine. Her song 1944 won the contest in Stockholm last year. Some people felt that the song shouldn't have been allowed to compete in Eurovision as they deemed it too political. However, the EBU thought otherwise and accepted the song. Since Eurovision, Jamala has been working alongside Tina Karol as a judge on The Voice and is currently part of the expert jury that is tasked with finding Ukraine's Eurovision entry for this year.
As well as the Eurovision contestants, some notable acts from the national selections have been nominated. Julia Sanina from The Hardkiss who came runner-up to Jamala currently has 11,526 votes. She is joined by MamaRika, Anastasia Prikhodko and also Maria Yaremchuk, who represented Ukraine in 2014 with Tick-Tock.
Ani Lorak was originally nominated for the award but was removed after some readers felt she shouldn't be nominated due to her controversial stance in the Ukrainian-Russian tension.
In the male category is the national final host Serhiy Pritula alongside this year's semi-finalist Arsen Mirzoyan.
How to make your vote
The winner of the competition will be announced in a special award ceremony on March 18th. The ceremony will take place at the National Palace of the Arts in Kyiv. You can view the rest of the nominees and place your vote by visiting the VIVA.ua website.
You can see nominee Jamala, who is the current Eurovision champion, performing her winning song 1944 in Stockholm below.