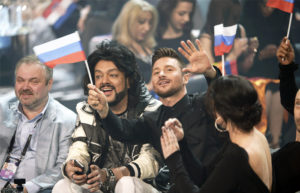 The time has come to end the rumours about Russia's participation in the contest. Today, Zurab Alasania, the General Director of the National Television Company of Ukraine, confirmed in an interview with the Ukrainian newspaper, Mirror of the Week, that Russia will participate in the Eurovision Song Contest 2017 in Kyiv.

According to Alasania, Russia has announced it will take part in the Eurovision Song Contest 2017.  He said "At first, they were grumbling about it, but then said they would participate and even name a potential candidate".
The Ukrainian officials earlier revealed the list of the Russian artists who wouldn't be able to attend or be a part of the event. However, one of the main and important Eurovision figures in Russia, Philip Kirkorov, who has written songs for several Russian entries, including Sergey's You Are The Only One in 2016, and Tolmachevy Sisters' Shine in 2014, has been officially allowed into Ukraine. The favourable decision was made, despite the fact that Kirkorov continues to perform in the Crimea, the territory Ukraine considers its own.
There have also been other exceptions made by the Ukrainian National Television Company, including First Channel Russia's head, Konstantin Ernst, who is on the black list, but will also be allowed to attend the event.
Some Ukrainian artists such as the singer Iryna Fedyshin favored Russia's participation in the Eurovision Song Contest 2017, and said that the audience would greet Russia with dignity and respect, and make their entry an unforgettable experience, given the contestant has not made any anti-Ukrainian remarks in the past.