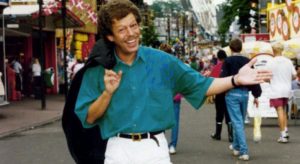 His music will never die. He tragically passed away in 2003, but if Tommy Seebach can look down on us from the sky, he will see that a new revival of his music has increased the sale significantly. The triple Eurovision participant remains a lost friend in the hearts of many Danes.
It was the 31st of March 2003. Tommy Seebach collapsed with a heart attack he didn't wake up from. Too much alcohol had taken the life of the happy curly-haired man, who represented Denmark at the Eurovision Song Contest three times. He was only 53 years old. The country was in chock, and those who had turned their back on him would have to ask themselves if they played a part in this.
Six years later, his son Rasmus broke through as a singer with the smash hit Engel. He has been Denmark's best selling artist ever since, breaking record after record. But things hasn't always been easy for Rasmus. Having seen his dad's ups and downs first hand, Rasmus struggled to find himself in the role as singer. He also faced record companies turning him down, if he didn't throw away the name Seebach.
The story about the Seebach family has been turned in to a musical. Since it's premiere in September 2017, Fredericia Teater has extended it several times, and when it soon finish here, the show will go to Århus and later Copenhagen. It is a very popular show which has been praised by everyone who have seen it. (Your writer has seen it twice, with four months in between, and she warmly recommends it).
Musical led to increased sale
Rasmus kept his last name. He finds inspiration in his dad's music. In many of his songs, it is clear that he is proud of his last name. As he should be. It took some years after his death, but Tommy is finally getting the recognition he deserves. That can also be seen in the interest for his music.
Fredericia Dagblad has talked to Lars Bennike from Warner Music who says that they now see a significantly increase in the interest for Tommy's music. He is not allowed to mention numbers nor any specific albums or songs from Tommy, which is more popular, but he says that they after comparing the sales to the same period last year "can clearly see an increase". He mentions that it mostly online purchases.
It is added that as Rasmus already sold a lot before the premiere of the musical, and afterwards released another album,  it is not possible to say anything about the effect this musical might have had on his music. Your writer can however tell that on both occasions, she saw the musical, Rasmus' crew sold a lot of souvenirs. As the show has basically been sold out every evening since the premiere in September, that probably has been good for his sales.
Rasmus has recorded a few of his dad's songs, but also written some 'tribute' songs to him. On one of those, Den Jeg Er (Who I am) from his debut album, he tells his dad how the family is doing, and that the dad shouldn't be too sad.
It took me 29 years, but I get it now. I have done like you said I should – sing boy, just sing – so that's what I do. Can you hear me?

… I drop by. Should say hello from mum, Nicolaj and Marie (Rasmus's brother and sister). We all miss you every day, but we are fine.

… You don't need to say 'I'm Sorry' because you made me who I am… promise me you won't say 'I'm Sorry', because you made me who I am.

… I dream and hope and believe that we will all see each other on the other side.

Rasmus Seebach – Den Jeg Er

(Translated to English for our readers).
The Seebach musical ends with a Rasmus 'concert'. While it isn't allowed to film or take photos from the musical itself, it can be done during this concert. We bring you hear a performance of the song mentioned above, Den Jeg Er written by Rasmus to Tommy.
Tommy Seebach represented Denmark three times at the Eurovision Song Contest. In 1979, 1981 and in 1993.