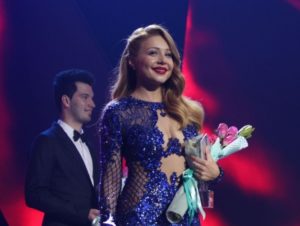 Tina Karol has beat a host of Ukrainian Eurovision stars by winning VIVA magazine's Most Beautiful Woman of Ukraine. Viva's Best Awards 2016 took place at the National Palace of Arts in Kyiv. Tina won the award for the third time.
Popular Ukrainian singer and former Eurovision participant Tina Karol has won the title of the Most Beautiful Woman of Ukraine. The title was given as part of Viva Magazine's annual Best Awards. Tina beat fellow Ukrainian Eurovision stars including the current champion Jamala along with Maria Yaremchuk, Zlata Ognevich, Alyosha and Svetlana Loboda. Ani Lorak was originally part of the nominated line up but was removed after some readers felt that she was unsuitable due to her contraversial stance in the Ukrainian-Russian tension.
In total were 100 nominees that were all known figures through film, music, sports, business and cinema. Other winners of the night include Alyosha who was voted the 'Best Mom 2016' and Jamala won the 'Pride of Ukraine' award.
Speaking of her award, Karol agreed that she is a charismatic girl but feels that the most important thing for a singer is to have good songs.
Since her time on Eurovision in 2006, Tina has become one of the most popular singers in Ukraine. She has releasd 5 studio albums and has recently released her Greatest Hits album.
The televised award ceremony will be broadcast on Ukrainian channel 1+1 on Sunday 26th March at 23:30 local time.
Below, remind yourself of Tina's Eurovision performance from 2006.