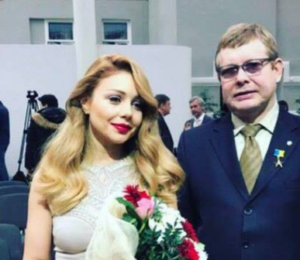 Ukrainian superstar Tina Karol has received a prestigious award from the President of Ukraine, Petro Poroshenko. The former Eurovision participant received the People's Artist of Ukraine for exceptional contributions to the performing arts.
Yesterday Tina Karol received the title of The People's Artist of Ukraine. She has become the fourth Eurovision contestant to receive this award. Other artists to receive the honour include 2008 runner up Ani Lorak, 2004 winner Ruslana and 2016 winner Jamala. The People's Artist of Ukraine award is the highest honour awarding title of people who have helped to contribute and develop the arts. The award is usually given to artists 10 years after they received the lesser title of the Merited Artist of Ukraine. Tina received this in 2009 from the then President, Viktor Yuschenko.
Tina Karol has become a superstar in Ukraine since her participation at the Eurovision Song Contest. She has released five studio albums and has recently released a Greatest Hits called Всі Хіти (All Hits).
In 2008, she married her producer Evhen Ogir and gave birth to their son Veniamin later that year. Unfortunately, Evhen died of stomach cancer in 2013, aged just 32. It is believed that her 2014 song Помню (I Remember) was written in his memory.
She is the longest serving judge on The Voice Ukraine and also serves as a judge on The Voice Kids. Tina is currently joined on the judging panel by the current Eurovision winner Jamala.
Tina Karol in the Eurovision Song Contest
Tina represented Ukraine in 2006 with the song Show Me Your Love. Originally titled I Am Your Queen, the song lyrics were written by DJ Pasha who co-hosted the contest in 2005.
Tina finished the competition in 7th place with 175 points. Her performance came directly after Lordi's winning song Hardrock Hallelujah.
You can remind yourself of her performance of Show Me Your Love by watching the video below.