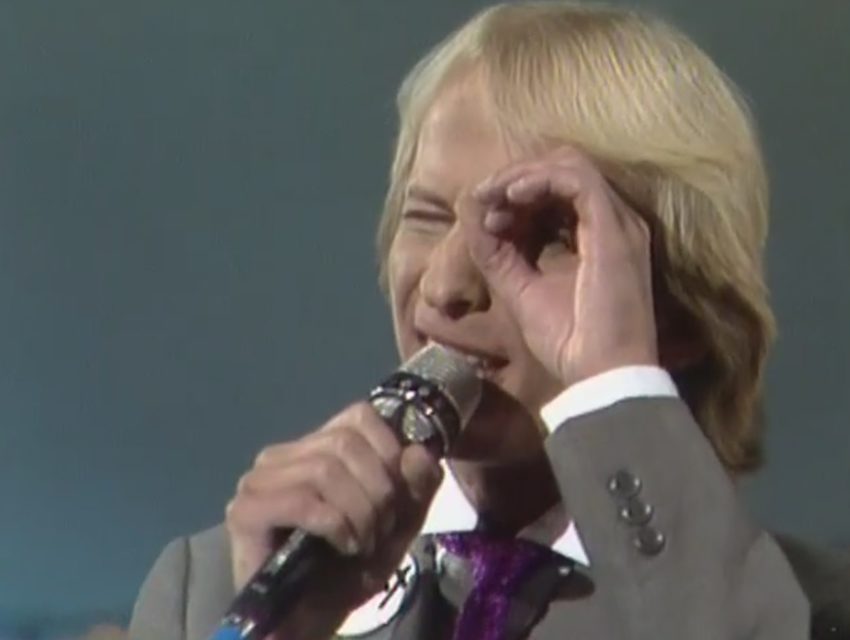 Did the winner of 1982 come from the future? And was it actually the right song that won the Danish final? After years of searching, the broadcaster finally found it's right format and the quality went significantly up.
Imagine that you can travel back in time. What will you do? And what will you tell the people you meet about the future? As the curious Eurovision fan I am, I will go back to previous national finals. I want to see why my parents' and grand parents' generations voted as they did. I want to talk to the participants from back then, and I also want to follow the big developments happening within music and TV production.
After years of trying out various formats, Denmark had now for 1982 landed on a national final with 10 songs. That formula would prove to be the right format for the country that returned to the Eurovision Song Contest in 1978 after a 12 years absence. After a poor 1981 show, I was now ready to continue for another trip.
Hang on, I did program my time machine to 1982, right? I got nervous something went wrong as the show started with an empty hall. It looked like a factory building being turned into a proper arena for a Danish final. Besides the clothes of the workers, it really looked like the 2014 B & W arena in Copenhagen. But no, as the stage was ready and Jørgen de Mylius came out in his purple suit with matching butterfly, I realised that it was indeed 1982.
Did Brixtofte also have a time machine?
First song up was Video Video by Brixx. It has become one of the classic Melodi Grand Prix entries, which everyone loves and can sing along to. Leadsinger Jens Brixtofte left the music business a few years later. He studied and became a regular business man. Showbizz was over for him.
After winning, Jens Brixtofte was asked if he was sure he didn't want to be a politician like his brother. He replied promptly with a "no, that was too hard". It crossed my mind, was Jens also from the future? Did he, like me, build a time machine and had come back from the future? In 1982, his brother's political scandal was many years into the future.
As Jens left showbizz, it was his brother who would make headline news. The name Brixtofte became quite quickly associated to him, politician Peter Brixtofte. He became mayor in 1985, and soon that municipality became paradise on earth. Business, sports and culture life was growing in the city, school children were given a free computer (which wasn't common back then), the students great housing, and the pensioners a free holiday to the sun in South Europe once each year.
But will you believe it, it turned out to be too good to be true. Paradise didn't exist after all. After a big economical scandal, Peter Brixtofte was thrown in jail. A few years after he was released, he died at the age of 66, at a point where alcohol had become his best friend.
That scandal had nothing to do with Brixx, but coming from the future, it is impossible to hear the name Brixtofte, and not think of the jailed politician. I was really curious about whether or not Jens Brixtofte did know about what would later wait for his brother, but I decided not to talk to him. If he really did come from the future, there was no need for me to blow his cover.
John Hatting's tragic destiny
I didn't talk to Jens Brixtofte, but decided to catch up with another member of Brixx instead, John Hatting. He was smiling, happy and enjoying the success of the song. However, I did sense that John wanted more than just being a keyboard player. I told him that in the future things would be different, that he would take part in the Danish final as solo singer, together with his wife and…. before I could finish my sentence with 'as songwriter', he interrupted me. "Wife? Which wife?" I told him that he would meet the Norwegian singer Lise Haavik, and that they would perform together under the name Trax and also go onto represent Denmark at the Eurovision Song Contest.
The news about his future, did please John. What I didn't tell him was that he would also die early, at the age of 64, and that he would be quite a bitter man at that time, that he would feel everyone turned their back on him, that he would get the reputation that he was difficult to work with, mainly because he was perfectionist, and also that it would turn out, that he indeed didn't have that much luck in his love life.
Watch the highlights
In the video below, you can enjoy the highlights from Dansk Melodi Grand Prix 1982. It includes clips from the opening of the national final, clips from all ten songs competing and the voting.
We have provided you with English subtitles directly on the video.
Did Denmark make the right choice?
As Video Video only scored five points at the Eurovision Song Contest, it would be obvious to conclude that the country probably didn't pick the right song to represent them. But which one would have had a better chance?
Brixx' winner entry is a classic in Danish Melodi Grand Prix history, but the one that got the biggest success afterwards is Tommy Seebach's Hip Hurra – Det' Min Fødselsdag (Hip Horay – it's my birthday). Host Jørgen de Mylius predicted this himself when he in the show said that this song will probably be a birthday classic and played until 2033! I totally love this song, and back in '82, it was modern and fresh, but Eurovision wasn't, so I don't actually think it would have done much better. A year or two later however, it could have won.
Looking at the songs that finished in top five in the Eurovision Song Contest that year, Denmark didn't have a song that could beat Germany's Nicole, but in my opinion Anne Karin's Når Man Kun Er 18 År (When you are just 18 years old) could have brought home a better result than Brixx did. A bold chance would have been Peter Belli's Spejldans (Mirror dance). It wouldn't be an obvious winner of the Danish final, but it might have secured a top five result at Eurovision.
I don't blame the jury members voting for Video Video though. It does have an international sound, and a topic which everyone could relate to at that time, and I like it a lot. Just bad luck that it didn't do better. There is nothing wrong with that song.
Voting
The result was determined by five juries consisting of 9 people in each. Each jury member gave the songs 1-6 points, which was then added up and calculated into the 1-8, 10 and 12 still used at the Eurovision Song Contest. The juries represented each their geographical area of Denmark.
Artist
Title
Jury A
Jury B
Jury C
Jury D
Jury E
Total
Placement
Brixx
Video Video
12
12
7
12
12
55
1st
Tommy Seebach
Hip Hurra – Det' Min Fødselsdag
8
10
12
10
7
47
2nd
Lise Dandanell
and Jacob Groth Band
På Træk
2
3
4
2
5
16
9th
Fenders
Det' Løgn
5
7
10
7
8
37
4th
Jørgen Klubien
and Carsten Elmer
Marie
4
3
2
6
6
21
8th
Käte & Per
I Denne Verden
7
6
5
1
1
21
7th
Jannie Høeg
Elske
6
4
3
5
4
22
6th
Taxie (McKinleys)
Drømmene Er Forbi
1
1
1
3
1
7
10th
Anne Karin
Når Man Kun Er 18 År
10
8
6
10
12
46
3rd
Peter Belli
Spejldans
3
5
8
4
3
23
5th
In this series
When I had built my time travel machine, I started travelling back to the Danish finals as the country returned to the Eurovision Song Contest in 1978. In the articles below you can follow my journeys, while waiting for 1983.
1978 – Mabel getting tough competition from Olsen Brothers who were to win Eurovision 22 years later.
1979 – Tommy Seebach's first of the three Danish final victories, and Kim Larsen looking for a free trip to Israel.
1980 – Former Eurovision winner Grethe Ingmann taking part in the Danish final for the last time, Birthe Kjær for the first time. Both beaten by a fat man in overalls. (No offense!).
1981 – Tommy Seebach's second win in a "poor, but pretty" Danish final which offered several tributes to famous people.
This reflection article is based on the author's own personal experience. Views expressed belongs to him or her, and are to be seen as unrelated to EuroVisionary.com.