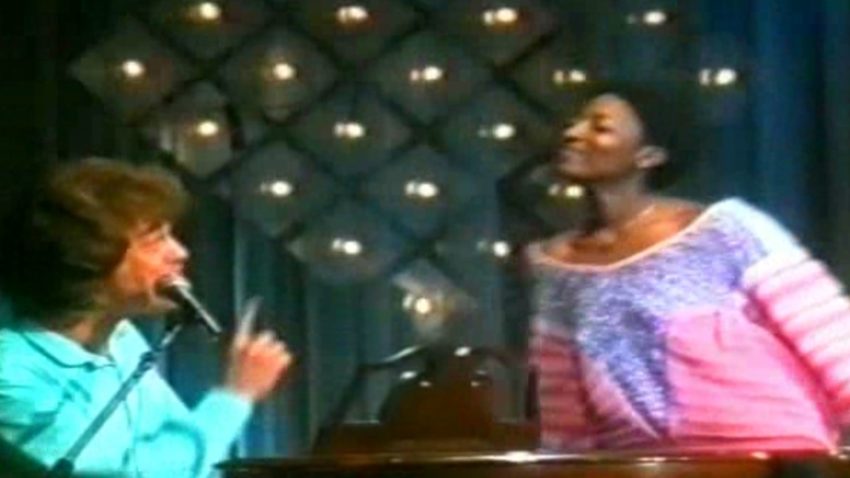 A poor low budget Danish final, songs about Mae West and Louis Armstrong that was clearly beaten by curly hair. Only one year away from finding its right format, Danish broadcaster saved a lot of money on the 1981 national final. So much that it became depressing to watch.
It's been a while since I travelled back in time. My machine had been broken, but now it is fixed – and I was ready to visit  the 1981 Danish final. I must admit that it wasn't with high expectations though. I knew the Danish broadcaster really had cut down this year compared to the year before. The number of songs went from 12 to 5. In 1980, half of the songs came via an open selection. Now the songwriters to all five songs had been asked to write a song for the show. Low expectations, yet, I was disappointed.
The poor 1980's
I was five years old in 1981, so I can't really remember how it was. But after the boom in the 1960's and the oil crises in the 70's, a bill was now to be paid. Denmark experienced the same as many other countries in the early 1980's: If you wanted to keep the country's Balance of International Payments in a healthy shape, the unemployment rate would go up, which meant that the households would have less income and as such needed to cut down on their expenses.
The show opened with host Jørgen de Mylius breaking through a box with a message written on it: "Poor, but pretty Dansk Melodi Grand Prix 81". Poor was definitely correct. The show was put in kind of like a break in another programme. There was no open selection. Broadcaster DR had asked five acts to perform play back with a song, and the qualify of those weren't high. Yes, Tommy Seebach delivered what was expected of him, but to be honest, did he really have any competition? As Jørgen de Mylius often says, "we'll get back to that".
Several times during this national final, Jørgen de Mylius made references to the economic situation like "Even though we are in the poor 1980's….". He was probably trying to make the TV viewers see this low-budget show in a greater light, but I think he instead made them depressed. The jury members in the audience didn't pay much attention either to what was going on. Some of them walked around (or was it the ones collecting the points?), during the songs, sometimes blocking the TV cameras!
As soon as the last song was performed, they went back to the original show, which had the national final put in, in a very abrupt way. An interval act was introduced, this turned out to be the host of the other show who after his performance, continued his programme like nothing happened, like time was standing still while Dansk Melodi Grand Prix was on.
Singing about famous people
Two of the songs in the Danish final were about famous deceased. One of them, Sikken Dejlig Dame (What a lovely lady) was about the American actress Mae West. Admitted, I had to Google' her to find out she passed away in November 1980 – just a few months before this Danish final. That fact shows that the songs, at least this one, were written shortly before the announcement of the songs, which then can explain the low quality of them.
Most of us grow up learning that Louis Armstrong is one of the greatest jazz musicians the world has ever seen. He passed away in 1971, ten years before this Danish final, and as such you probably shouldn't do a tribute song to him, unless you can do it well. Satchmo didn't come across as a song they spent a lot of time on getting right. Unfortunately.
No hugs to Seebach
As the final ended, I quickly rushed to my time machine to get back to 2018. I didn't feel like talking to any of the participants this time, and unlike in 1979, I couldn't even give Tommy Seebach a hug. Back then I left him with tears in my eyes as I didn't dare to tell him what was waiting for him in the future. This time, I was simply afraid that if I once again held on to him a little tighter and started crying, he would ask questions. And what should I answer? No, I couldn't risk that.
Watch the highlights
I was disappointed about the quality of the songs, but taste differs. In the video below, you can enjoy the highlights from Dansk Melodi Grand Prix 1981. It includes clips from the opening of this "poor" final, all five songs and the announcement of the result.
We have provided you with English subtitles directly on the video.
Did Denmark made the right choice?
As previously mentioned, I didn't find the qualify of the songs here in 1981 particular good. Yes, Tommy Seebach delivered what was expected of him, but the average wasn't good. Allan Mortensen and his band Hans Mosters Vovse failed miserable to live up to their potential.
I was surprised to realise that the song En Tragisk Komedie, which finished second to last, was written by Kasper Winding. He was one of my idols in the last half of the 1980's. Did he really put his name to something like this? As he appeared as backing singer as well, he obviously did. I can understand why I ignored that, if I have paid attention to it before. This song is significantly below the material he later came up with.
So did Denmark made the right choice here in 1981? No doubt they did. In Dublin, Krøller Eller Ej, finished 11th out of 20 songs. Should we have picked another song though, it should probably have been Anniqa's May West song Sikken Dejlig Dame (What a lovely lady). It is catchy, but I don't think it would have scored any better than what Tommy Seebach and Debbie Cameron did.
Let me just add that this was the very first time Debbie Cameron sang publicly in Danish. She is daughter of the American jazz and gospel singer Etta Cameron, who already moved to Denmark in the early 1970's and lived here until her death in 2010. Debbie moved to Denmark to live with her mum, in 1976 at the age of 17.
Voting
Once again, DR had changed the jury system. This year, it consisted of 100 people, who was the only audience in the studio. The 100 jury members had been selected after they applied to a radio advert. Each of them gave each song points between 1 and 5 allowing 500 as the maximum of points one song could get. With 441 points, Tommy Seebach and Debbie Cameron as the only ones scored above 400.
We didn't see any voting this year. Host Jørgen de Mylius announced Tommy Seebach and Debbie Cameron as winners. After a short winner interview the placements for the remaining four songs were quickly announced.
| | | | |
| --- | --- | --- | --- |
| Artist | Title | Placement | Points |
|  Hans Mosters Vovse | King Kong Boogie | 2nd | 375 |
|  Anniqa | Sikken Dejlig Dame | 3rd | 359 |
| Tommy Seebach & Debbie Cameron | Krøller Eller Ej | 1st | 441 |
| Theis Jensen | Satchmo | 5th | 210 |
|  Carsten Elmer & Jørgen Klubien | En Tragisk Komedie | 4th | 238 |
In this series
When I had built my time travel machine, I started travelling back to the Danish finals as the country returned to the Eurovision Song Contest in 1978. In the articles below you can follow my recent journeys, while waiting for 1982.
1978 – Mabel getting tough competition from Olsen Brothers who were to win Eurovision 22 years later.
1979 – Tommy Seebach's first of the three Danish final victories, and Kim Larsen looking for a free trip to Israel.
1980 – Former Eurovision winner Grethe Ingmann taking part in the Danish final for the last time, Birthe Kjær for the first time. Both beaten by a fat man in overalls. (No offense!).
This reflection article is based on the author's own personal experience. Views expressed belongs to him or her, and are to be seen as unrelated to EuroVisionary.com.