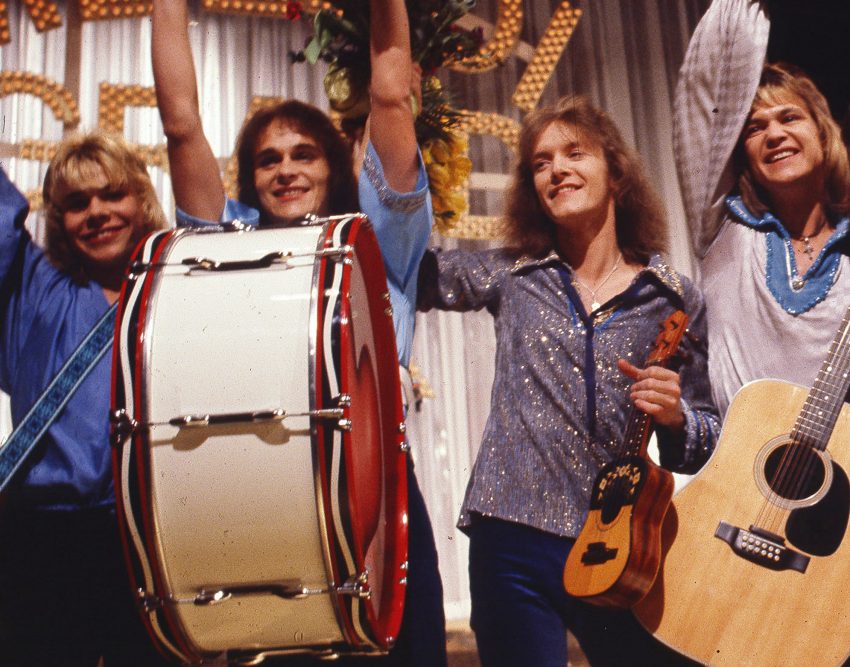 Screaming teenage girls, a former Eurovision winner and a coming one, a really odd performance order, a turning stage and a hilarious sit-com. That, and six actually rather decent songs, was what I found, as I travelled back in time to the Danish final from 1978. 
Imagine that you can travel back in time. What will you do? And what will you tell the people you meet about the future? As the curious Eurovision fan I am, I will go back to previous national finals. I want to see why my parents' and grand parents' generations voted as they did. I want to talk to the participants from back then, and I also want to follow the big development happening within music and TV production.
First trip in my new time machine takes me back to 1978. In 1978, Denmark returned to the Eurovision Song Contest after a 12 year absence. In 1966, the Nordic country, that debuted in 1957, were represented by Ulla Pia and the song Stop – Mens Legen Er God, which translates to "Stop while the game is good". Oddly enough, that was what the broadcaster did after that.
Screaming teenage girls
First edition of "Denmark at the Eurovision Song Contest Part Two" was just about to start. I had landed among the audience in the arena which also hosted the 1964 Eurovision Song Contest. Being here 14 years later, it crossed my mind that a majority of the audience this February evening probably was born that year, in 1964 – with most of them being females. Some of them had brought their parents tonight, but it was the teenage girls, I could hear all around me.
As the show emerged, I realised that, though they were fair to the others, they were mainly there for one act, Mabel. If I didn't know better, the reaction from these girls towards their idols would make me think I was at a Justin Bieber concert. The girls clearly lived and breathed for these four Mabel guys, and several of them needed emergency help when the result was clear.
I so wanted to tell Mabel singer Michael Trempenau that he, just a few years later, would go to the US and become a world famous heavy rock singer, but I couldn't get near him. The girls whose day, year and probably decade would be saved if they managed to touch one of the band members, were blocking my access. I instead told a few of them what were waiting for their idol… Big mistake! The thought of Mabel ever breaking up, and one of them turn to hard rock, was more than they could cope with that evening.
Olsen Brothers don't believe me
All six songs were to my surprise actually rather enjoyable. They were all performed by well known established names who knew how to act on stage. They knew how to entertain an audience and if they were nervous, they hid it well. That is in so much contrast to today where many national finalists are discovered on a home made YouTube video, if they don't come directly from a talent show.
Coming from the future, I of course knew Mabel would win as I sat there in the audience for the 1978 Danish final, but I still found myself cheering for the Olsen Brothers. Niels "Noller" was quite pleased with their second place, he knew they had so much else going for them at that time, that they could remain a household name in Denmark for quite a while. As the perfectionist Jørgen is, he first wondered what, if anything, they could have done differently. After a while, he relaxed and realised that you just couldn't beat Mabel at that time.
I managed to catch up with the brothers and told them that they 22 years later would win the Eurovision Song Contest with a tribute song to mature women. Probably quite natural, they thought I had fallen from the moon. In the year 2000, they would be 50 and 46 years old. This evening, where the teenagers had been in focus, the thought of winning Eurovision at that age was a bit far stretched.
Watch the highlights
A video with all the highlights from this 1978 Dansk Melodi Grand Prix is available. It includes clips from all six performing artists, a bit from the voting and the entertaining sitcom that this show produced. We provided you with English subtitles which you can turn on if you don't understand Danish.
The odd technical things
I have generally enjoyed this journey back to 1978, and I will take some great memories with me back to 2017, but it won't be the turning stage, or the odd performance order. All the songs were performed a second time, but for some reason, this time in the order four to three. Meaning first up is song number 4, 5 and 6, and then 1, 2 and 3. This was really weird, but obviously an attempt to avoid advantages and disadvantages of being first or last. 
As the songs were presented, the participants prepared on stage, behind the scenes. When it was time for their song to start, the stage simply turned and they faced the audience and the TV cameras. The stage had stairs on it, and should any of the acts be afraid of the stage turning back too soon, they could walk down and have steady ground under their feet! It is likely the broadcaster wanted to show off this technical possibility, which probably was rather new and cool back then, but coming from the future, it just looked too silly.
Did Denmark chose the right song?
As Denmark would finish 16th at the 1978 Eurovision Song Contest, it would be easy to say that the juries didn't make the right choice. A national final however is in many countries much more than just choosing a song for Eurovision; it is a national song contest in itself. With Mabel being so extremely popular at that time, it is rather obvious that they would either win or come second. The same can be said about the Olsen Brothers, so there is no surprise either in them being runner up.
I came to this national selection with the idea that Olsen Brothers should have won. I love San Francisco and it would have been a worthy winner. As I went back to my time machine in order to get to 2017 again, it was however Grethe Ingmann's Eventyr which was stuck in my head. The 1963 Eurovision winner sang a very classic song with a universal tune and theme. I loved it, and I thought this could have done well. Grethe would return to the national selection a few more times, so I put a note to myself to talk to her at a later point.
As I returned home, I put on the song which a couple of months later won the 1978 Eurovision Song Contest, and I realised that no, Denmark didn't choose the wrong song. We were just unlucky that Israel came with a song which in many ways was similar to Boom Boom; a pop song with a hock line which you can sing a long to no matter if you understand the rest of song or not. Without A-ba-ni-bi, Denmark would likely have done better that year.
Voting
In 1978 we didn't yet have tele voting. Eight juries made up the result. Contrary to now, it wasn't professionel jury members. Each jury, which represented each their city in each their part of the country, consisted of 11 people each. Everyone could sign up, and then they were chosen based on a spread in age, gender and occupation.
The juries were called up, and when they gave their points, 1 to 6 to each song, these were given in form of balls added to the analog scoreboard with numbers displayed on it looking like an old thermometer. The digital voting were yet to be introduced.
| | | | | | | | | | | |
| --- | --- | --- | --- | --- | --- | --- | --- | --- | --- | --- |
| Song | Aabenraa | Næstved | Rønne | Aalborg | Odense | Holstebro | Copenhagen | Århus | Points | Placing |
| Brødrene Olsen – San Francisco |  5 |  3 | 6 |  5 |  4 |  5 |  4 | 5 | 37 |  2 |
|  Flair – Du var superstar |  4 |  2 |  4 |  3 |  2 |  4 |  6 |  4 |  29 |  3 |
| Daimi & Birds of Beauty – Tornerose |  1 |  1 |  2 |  1 |  1 |  1 |  1 |  1 |  9 |  6 |
| Grethe Ingmann – Eventyr |  2 | 5 |  3 | 2 | 3 |  3 |  3 | 2 |  23 |  5 |
| Mabel – Boom Boom |  6 |  6 | 5 |  6 |  6 |  6 | 5 | 6 |  46 |  1 |
| Ulla Neumann – Hvem, hvad og hvorfor ikke? | 3 |  4 |  1 | 4 | 5 |  2 |  2 |  3 |  24 |  4 |
This reflection article is based on the author's own personal experience. Views expressed belongs to him or her, and are to be seen as unrelated to EuroVisionary.com.