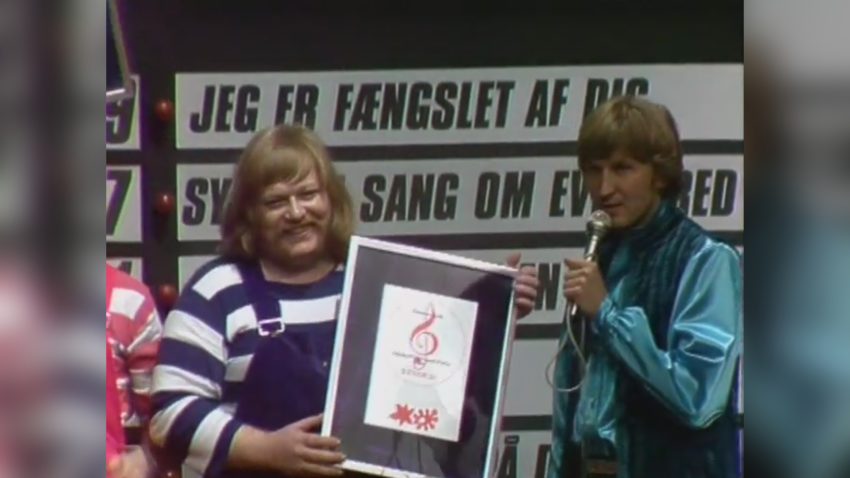 A broadcaster still searching for the right format, a legendary Eurovision winner soon fighting for her career – and her life, that was what I found as a travelled back to the beginning of my favourite national final decade. This time, the jury got it wrong.
Imagine that you can travel back in time. What will you do? And what will you tell the people you meet about the future? As the curious Eurovision fan I am, I will go back to previous national finals. I want to see why my parents' and grand parents' generations voted as they did. I want to talk to the participants from back then, and I also want to follow the big developments happening within music and TV production.
The Danish broadcaster DR was still searching for the right format in 1980, the third year after its return to the Eurovision Song Contest. After two very different selections, they now went for a mix of the two. Six songs in 1978, 17 in 1979 – and now in 1980, 12 songs. A totally open selection in 1978, a completely closed one in 1979 – and now in 1980, half of the songs selected via an open selection, and the other half specially invited as they did well the year before.
A goodbye to Grethe Ingmann
When I stepped into the time machine, programmed to the 29th of March 1980, I was shortly thinking of my trip back to '79. Back then I didn't dare to tell Tommy Seebach about the tragic destiny that was waiting for him. I knew I would face a similar situation in 1980.
Grethe Ingmann, Denmark's very first Eurovision winner, was among the participants. It was third year in a row for her. I hadn't talked to her in '78 or '79, but this would now be my last chance if I was ever to meet her. I was in doubt. Yes, she was a former Eurovision winner, and I would love to meet her. On the other hand, I once again faced the situation that I wouldn't be able to tell her about the future waiting for her. It would be too cruel, and I respected her too much to do that.
When Grethe passed away of liver cancer in 1990, I was 14 years old. I was already a Eurovision back then, but Grethe hadn't been much in the media the years, or even the decade before. It was before everyone had computer and access to the internet, so I barely knew Grethe when the news broke. I however still clearly remember how it was me who first heard the news, and told my parents. If I didn't instantly knew that this was a big loss for the country, my parents shock, told me so.
Later I had the opportunity to check up on her career, and conclude that yes, the shock of my parents had been rightful. It was a big loss when she passed away, only 52 years old. Unfortunately I would also read story after story about how she struggled in the 1980's to find a space for her in the music scene, and never really managed. I would also read how she was drinking too much, and made a rare appearance live on TV – just a few months before her death – unfortunately drunk!
I decided just shortly to tell Grethe that I loved basically all of her songs, and that she, in my eyes, was one of very few female singers at that time with the very unique talent that made her able to shine in jazz, classic as well as pop. She could do it all – and I wish she would have realised back then that the music scene in Denmark, which was about to change, did have space for her.
Gry – a star is about to shine
Do you remember Denmark's 1983 Eurovision entry Kloden Drejer sung by Gry? In 1980 this was still a few years away, but I couldn't help but telling Gry about it, when I ran into this 15 year old girl shortly after the final. She was there to support her mum Vivian – but also as part of the children choir backing Tommy P up on stage.
This was Gry's first Melodi Grand Prix appearance, although one could argue that technically this was in 1964 when her mum took part being pregnant with her.
In 1980, Gry was just about to start her career and follow in the footsteps of her mum and her aunt who had sang together with Vivian at the Danish final in 1964. Gry's first single was released later in 1980. A few more singles followed in the coming years, but her big beak through would be the 1983 Danish winner.
As I told her about her future, I also showed her the moves "rejehop" which would become her trademark. She jumped right into trying it, and laughed as she couldn't get these awkward moves right – not yet.
Lecia and Ivan Pedersen meets
At the 1980 Danish final, I noticed how Lecia and Ivan Pedersen met, and I thought about the future waiting for them. Here in 1980, Lecia took part together with her sister, and Ivan as a part of McKinleys.
Just two years later, the two of them would form Laban, and break through with the smash hit Hvor Skal Vi Sove I Nat, a cover of the Italian Sarà Perché Ti Amo. Though the duo never took part in Dansk Melodi Grand Prix, they were one of the most popular Danish acts in the '80's, and would also gain international succes.
Lecia would later participate solo several times, and in 1989 win the OGAE fan clubs Second Chance contest with the song Landet Camelot. Ivan also took part in 1982, that time with the group Taxie.
Watch the highlights
A video with all the highlights from this 1980 Dansk Melodi Grand Prix is available. It includes clips from all 12 performing artists, the voting done directly after each song and the final presentation of the participating acts. Watch it also to find out if one half of Olsen Brothers, Jørgen, might just actually be Greek!
We have provided you with English subtitles directly on the video.
Did Denmark made the right choice?
In 1978, I was in doubt. In 1979, I wasn't. Denmark made the right choice. After having heard all the songs again here in 1980, unfortunately I have to conclude that the jury members in the Danish final, got it wrong, in my opinion.
Bamses Venner were really popular, and would remain a household name until after the death of lead singer Flemming "Bamse" Jørgensen New Year's Night 2010/11. I do love their song in this Danish final, Tænker Altid På Dig, but I just don't think it was right for Eurovision, and certainly not at that time. It is very much Danish in its tune and presentation, and I think the jury members simply didn't think about the fact that the Danish winner would represent the country at the Eurovision Song Contest.
Denmark finished 14th out of 19 participants. But which of the other 11 songs in the Danish final could have done better? I might be a slightly bit biased as I am a sucker for the male-female duets which in particular the 1980's would have plenty of. Kirsten and Søren (Hot Eyes) wasn't formed yet, but Birthe Kjær took part in Dansk Melodi Grand Prix in 1980 for this first time – and this was a duet with Henning Vilen.
In my opinion, their song Du Og Jeg, written by the 1978 Danish Eurovision participants Mabel, would probably have gained a better result at the Eurovision Song Contest. It is fresh, and a lot more '80's in its sound. I am glad Birthe did finally get to Eurovision in 1989, though it should have happened earlier.
 Voting
| | | | |
| --- | --- | --- | --- |
| Artist | Title | Placement | Points |
| Vivian | Jeg Er Fængslet Af Dig | 11th | 39 points |
| Tommmy P. | Syng En Sang Om Evig Fred | 8th | 59 points |
| The Lollipops | Nu Er Det Morgen | 5th | 61 points |
| Susanne Breuning | Mozart Jensen | 11th | 39 points |
| Bamses Venner | Tænker Altid På Dig | 1st | 84 points |
| Grethe Ingmann | Hej, Hej, Det Swinger | 3rd | 69 points |
| Daimi | Fri Mig | 10th | 43 points |
| Henning Vilen & Birthe Kjær | Du Og Jeg | 2nd | 74 points |
| Brødrene Olsen | Laila | 5th | 61 points |
| McKinleys | Robin Hood | 9th | 47 points |
| Hans Mosters Vovse | Swingtime Igen | 4th | 65 points |
| Lecia & Lucienne | Bye, Bye | 7th | 59 points |
In this series
This reflection article is based on the author's own personal experience. Views expressed belongs to him or her, and are to be seen as unrelated to EuroVisionary.com.