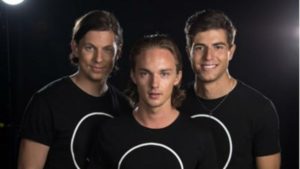 After having entered the final round of the radio talent competition "Svensktoppen nästa 2015" the group Smajling Swedes has been offered and accepted a place in next years edition of Melodifestivalen.

Just like in the last three years one of the songs that entered the Final of the radio talent competition Svensktoppen nästa has been awarded a place in next years edition of Melodifestivalen.
A total of 845 songs were sent to the 25 local radio stations of P4. Eight of these songs has been sent to the Final which took place today. The eight competitors are names unknown to the broader audience although one, Laila Adelé, took part in a Semifinal of Melodifestivalen 2006 with the song Don't Try To Stop Me.
In the end Michael Fannon, stood as the winner with his song Kommer tid, kommer råd ahead of the singer Jawone's song Främling. However, the jury group led by Christer Björkman, decided to give the opportunity to participate in next years Melodifestivalen to the group Smajling Swedes. This means that the group is the first of 28 participants that will be chosen to take part in the swedish national final where Sweden will choose who will represent the country at the Eurovision Song Contest in Stockholm.
In the three previous years the performer who came from Svensktoppen nästa failed to reach top 4 in the Semifinal of Melodifestivalen and thereby missed the chance to advance to the Final. Terese Fredenwall reached the best result out of these three by coming 5th in her Semifinal in 2012.