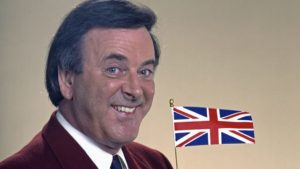 Kieran O'Hanlon, the mayor of Limerick, Ireland, has announced plans, to erect a statue, in honour of their hometown hero, Sir Terry Wogan.
The city of Limerick will spend 9 million euros to turn the city centre into a pedestrian only area. The Wogan statue is part of the modernisation and will cost 50000 euros.
The beloved Eurovision broadcaster, who died a year ago, had a long and varied career with the BBC. As well as Eurovision, he hosted Children In Need, and a very popular eponymous talk show in Britain.The plan is to have a bronze statue of Terry sitting on a bench, microphone in hand, in tribute to his chat show.
The mayor says, this will encourage the public to have their photos taken with the late star. With the large amount of fans, the city of Limerick expects this to be a huge tourist draw.
Terry's surviving family are all in favour of the memorial structure. They will be heavily involved with consultation on the project.
Fans can also have a say in the construction, by submitting ideas to the mayor, at [email protected]. Perhaps someone can suggest their favourite Eurovision moment, which could be added somehow to the statue.
The statue will be placed on lower Thomas Street, linking with O'Connell Street. This will be opposite a controversial statue of actor Richard Harris which was described as too touristy kitch, by artist John Shinnors. To avoid the same charges again, full public consultation will take place for Terry.
The councilors, agree though that Wogan must be honoured. Councillor Leddin, of Limerick said that "Terry was a broadcasting legend, the likes of whom we may never see again".
Watch Terry Wogan talk about how he became involved with Eurovision below.