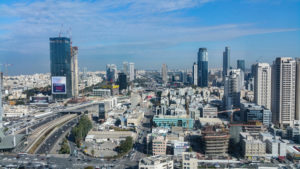 Jerusalem or Tel Aviv. Those were the two cities to choose between as host for the 2019 Eurovision Song Contest. It's now time to look into flights and accommodation as of today, we finally got to know next year's host city.
Four large cities were invited by Israeli broadcaster KAN to submit an offer for hosting the 2019 Eurovision Song Contest. Haifi decided not to take part leaving it between Jerusalem, Tel Aviv and Eliat. Two weeks ago, Eliat took back their offer.
In collaboration with the European Broadcasting Union (EBU), broadcaster KAN now decided that it will be Tel Aviv to host the big event in May 2019.
When Netta won with the song Toy in May this year, she secured Israel their fourth Eurovision victory, but the country only hosted twice before. In 1979 and 1999, Jerusalem hosted the events. Following their 1979 win, the country declined to host the second year in a row. The Netherlands took over, and as the contest took place on Israel's Day of Remembrance, they even withdrew from the contest.
About Tel Aviv
The city of Tel Aviv is beautifully located with a coast line to the Mediterranean Sea. It hosts Israel's finance, technical and culture center. Including surrounding areas, close to two million people call Tel Aviv their home. Half a million inhabitants live in the city itself.
In 1948, when the state of Israel was declared, it took place in Tel Aviv, but contrary to Jesusalem, the city isn't as religious and is considered the more modern of the two.
Dates
With today's host city announcement also followed the dates. The two semi-finals will be held on the 14th and 16th of May, and the final Saturday the 18th of May 2019. The event will be held at EXPO Tel Aviv (International Convention Center).