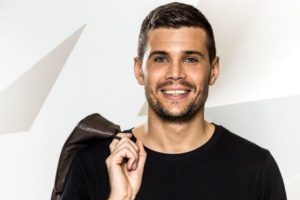 Today was a Eurovision fan's highlight as SVT announced the names of the artists who will be competing in the Melodifestivalen 2020 heats, with the winner representing Sweden at the Eurovision Song Contest 2020 in Rotterdam, The Netherlands.
As always there will be four heats. Two acts from each heat will proceed straight to the finals. The third and fourth place act will go on to the Andra Chansen, where four more acts will compete one last time for a place in the final.
The Melodifestivalen 2020 final will take place on 7 March 2020 from the Friends Arena in Stockholm.
The Andra Chansen will take place on 29 February 2020 from the Stiga Sports Arena in Eskilstuna.
Meanwhile leading up to these show let's take a look at what Sweden are offering this year. Many familiar faces are returning.
Semi Final 1 – 1 February 2020 – Saab Arena – Linköping
Malou (Ballerina)
– she made the final of Melodifestivalen last year with
I Do Me
Felix Sandman (Boys With Emotions)
– came 2nd in 2018 with
Every Single Day
OVÖ (Inga Problem)
– this duo comprises of Finess and Ivory and are making their Melodifestivalen debut
The Mamas (Move)
– Loulou, Ashley and Dinah were John Lundvig's backing singers last year, when he represented Sweden with
Too Late For Love
Suzi P (Moves)
– Young Suzi makes her debut in the contest
Sonja Aldén (Sluta aldrig gå)
– this will be Sonja's fourth appearance having competed in 2006, 2007 and 2012
Robin Bengtsson (Take A Chance)
– Sweden's 2017 representative with the song
I Can't Go On
– making his third appearance
Semi Final 2 – 8 February 2020 – Scandanavium – Gothenburg
Linda Bengtzing (Alla mina sorger)
– Linda catches up with Sanna Nielsen now by making her seventh appearance in the contest
Dotter (Bulletproof)
– she failed to reach the final in 2018 with fan fave Cry, but is expected to do better this year
Anna Bergendahl (Kigdom Come)
– Sweden's 2010 representative with
This Is My Life
, who also made the final last year with
Ashes to Ashes
Thorsten Flinck (Miraklernas tid
)
– Thorsten appeared in the 2012 final with his group Revolutionsorkestern
Klara Hammarström (Nobody)
– this reality star is making her debut in the contest this year
Paul Rey (Talking In My Sleep
)
– Paul is making his debut in the contest this year
Mendez with Alvaro Estrella(Vamos amigos)
– Mendez was in the final in 2018 too with the song
Everyday
while Alvaro took part in 2014 with the song
Bedroom
Semi Final 3 – 15 February 2020 – Coop Norrbotten Arena – Luleå
Faith Kakembo
(Crying Rivers)
– she is making her debut in the contest
Amanda Aasa (Late)
– The P4 Nästa wildcard runner-up
Albin (Livet borjar nu)
– Albin appears solo for the first time, after performing as part of the duo Albin and Maatias in 2016
Drängarna (Piga och dräng)
– This dance band are celebrating 25 years together by debuting in the contest
Mariette (Shout It Out)
– this will be her 4th attempt to win
Anis don Demina (Vem är som oss)
– This will be the second appearance for Anis, having missed the final last year with vocalist Zeana
Mohombi (Winners)
– last year Mohombi made the final with his song
Hello
Semi Final 4 – 22 February 2020 – Malmö Arena – Malmö
Hanna Ferm  (Brave)
– she made the final last year as part of the duo LIAMOO and the song
Hold You
Nanne Grönvall (Carpool Karaoke)
– part of the band One More Time who placed 3rd for Sweden in 1996. Nanne has been in Melodifestivalen four times as a solo artist prior to this year
William Strid (Molnljus)
– a new name for Melodifestivalen although he has appeared in Swedish Idol
Jakob Karlberg (Om du tror att jag saknar dig)
– Jakob is making his debut in the contest this year
Ellen Benediktson & Simon Peyron (Surface)
– Having made the final in 2014 with
Songbird
, Ellen returns with Simon, who was a member of the group Outrigger, who competed against Ellen with the song Echo
Victor Crone (Troubled Waters)
– this is Victor's second time at Melodifestivalen – he represented Estonia last year with the song
Storm
Frida Öhrn( We Are One
) – This is Frida's fourth appearance having previously been a member of LaRoxx and Cookies 'N' Beans
The hosts for all six shows will be David Sundin, Linnea Henriksson and Lina Hedlund.