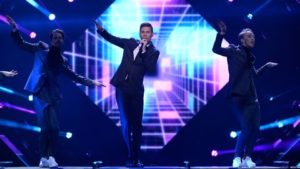 After four semi finals and a second chance round, Sweden had made it to the big final that took place in Stockholm. Twelve acts competed for the ticket to this year's Eurovision Song Contest in Kiev and Robin Bengtsson was declared the winner.
The songs
Ace Wilder – Wild Child
First up to take the stage was Ace Wilder, who came to the final from the first heat. Ace has also competed in Melodifestivalen in 2014 and 2016 and always finishing in the top 3 of the final. Can Ace repeat her success in this year's Melodifestivalen?
Boris René – Her Kiss
He is also a familiar face to us, as Boris competed in last's year edition of the contest and made it to the final from the second chance round. The same happened this year. He knows how to make you dance and he has high hopes that he will do much better this year.
Lisa Ajax – I Don't Give A
After making it straight to the final last year, Lisa came back to win the contest. Unfortunately, she had to pass to the final from the second chance round with a song full of the f*** word. This time she is more confident and she hopes to win both the juries and the audience's heart.
Robin Bengtsson – I Can't Go On
Last year, he was the big surprise of the contest as he came first on his heat and ending up fifth on the final. This year, he improved his stage performance and he worked with a team that knows how to write a hit. He made it straight from the third heat and tonight he performed a clean version of his entry that does not include the F*** word. He is "freaking beautiful" and he hopes to win the gold ticket to Kiev.
Jon Henrik Fjällgren feat. Aninia –En Värld Full Av Strider (Eatneme gusnie jeenh dåaroeh)
After four clear pop entries, this is something different and more close to Swedish traditional style. Jon has competed in 2015 and came second, losing only by that year's Eurovision Song Contest winner Måns Zelmerlöw. Definitely, he is a strong competitor and the Swedish language can make this entry stand out.
Anton Hagman – Kiss You Goodbye
The surprise of this year's Melodifestivalen. He is taking part for the first time, but the thing that he won over Loreen's Statement in the second chance round shows that he is already a strong contestant. He is fresh, young and with his guitar hopes to charm the audience and score high.
Mariette – A Million Years
She is one of the fans favourites and she never disappoints to deliver good vocals and a great performance. This is her second time on the contest and after her dark performance of Don't Stop Believing in 2015, Mariette came back with a strong song written by the Eurovision expert Thomas G:son.
FO&O – Gotta Thing About You
The only group that made it to the final. This is the group's debut to the contest and after competing to the second chance round, they knocked out the boy band De Vet Du in their direct duel. This time they did minor changes on their stage presentation and they seem more comfortable on stage.
Nano – Hold On
This is the first time Nano takes part on Melodifestivalen and he came straight to the final from the first heat. Tonight, Nano improved his vocals and seemed sure about his entry. He is a hot favourite to win the ticket to this year Eurovision Song Contest as his song is already a hit in Sweden.
Wiktoria – As I Lay Me Down
She is 20 years old, fresh and very talented. Last year, she came close to representing Sweden as she came second in the public votes. This is year, she came straight to the final from the fourth heat and she is the clear favourite to win tonight's show. For her final's performance she changed her outfit into a red dress and also during her performance we saw more graphics on the screen. Wiktoria was also the winner of last night's exit poll, and all we can do is wait and see if she can ensure her victory rumours.
Benjamin Ingrosso – Good Lovin'
This is his first time on Melodifestivalen, but Benjamin has already won the Lilla Melodifestivalen in 2006. He came straight to the final from the second heat and he is ready to do his best to impress both the juries and the Swedish public.
Owe Thörnqbist – Boogieman Blues
He is 87 years old and extremely loved by the Swedish people. He took part for the first time this year in Melodifestivalen as a performer and he managed to make it to final from the third heat. Tonight, he is ready to close the show and enjoy every minute of his performance.
The show
Tonight's final kicked off at 20.00 CET live from Friends Arena, Stockholm. The show was hosted by Hasse Andersson, David Lindgren and Clara Henry. After the juries' votes had been cast, the worldwide famous Swedish artist Zara Larsson took the stage to perform her new song "Only You" and other previous hits of her.
The results
An international jury was in place for tonight's final, that consisted of:
Armenia (Iveta Mukuchyan), Australia (Stephanie Werret), United Kingdom (Simon Proctor), France (Edoardo Grassi), Israel (Tali Eshkoli), Italy (Nicola Caligiore), Malta (Gordon Bonello) , Norway (Anette Lauenborg Waaler), Poland (Mateusz Grzesinski), Czech Republic (Jan Bors), Ukraine (Victoria Romanova).
The winner after all the juries had voted was Robin Bengtsson with 96 points.
The public voting
The public could vote via phone or app. They gave Nano the highest amount of votes and with the combined votes Robin Bengtsson was declared the winner of this year's Melodifestivalen.
Sweden in Eurovision Song Contest
Sweden joined the contest in 1958 and missed only three contests in 1964, 1970 and 1976. With six wins, Sweden is only behind Ireland, as the most successful country in the contest. Their first win was Abba with Waterloo back in 1974 and thanks to this win, Abba became one of the world's most successful bands of all time.
Sweden's second win came in 1984 with Herrey's and Diggi-Loo Diggi-Ley. Their next three wins were Carola in 1991 with Fångad Av En Stormvind, Charlotte Nilsson in 1999 with Take Me To Your Heaven and then, Loreen in 2012 with Euphoria.
Since the introduction of the semi-finals in 2004, Sweden has missed the final only one time in 2010, when Anna Bergendahl failed to make it to the final, finishing 11th in her semi-final, with This Is My Life. Last year, Sweden hosted the 61st edition of the contest in Stockholm after the victory of Måns Zelmerlöw in 2015 with Heroes.