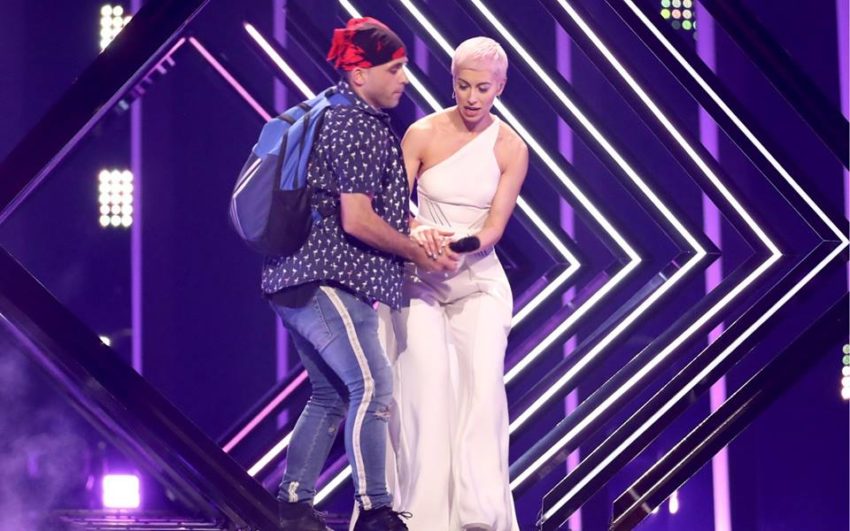 TV viewers across the world, the audience in the arena in Lisbon and everyone in the press centre – a lot of people were shocked as a stage jumper took SuRie's microphone on stage – but none more than SuRie. She received the biggest applause from the audience for pulling through. 
We were all shocked and horrified that it could happen again – a stage jumper at the Eurovision Song Contest. In 2010, Spanish Daniel Diges was interrupted by a stage jumper. He was later identified as Jimmy Jump. At first, speculations was brought up that it was Jimmy Jump again due to a resemblance in appearance and outfit, but this night, the stage jumper was identified.
SuRie's stage jumper is a wannabe rapper and self-proclaimed activist who calls himself Dr ACActivism. He has previously interrupted broadcasts of The Voice and the (British) National Television Awards. He is currently in police custody in Lisbon.
Last year, Eurovision also suffered from a stage jumper as a man interrupted Jamala's interval act and flashed his naked butt. But 2010 and 2017 are not the only examples. Back in 1964 a political activist also jumped on stage with a banner saying "Boycott Franco and Salazar. This didn't happen during a performance though, but just as the Belgian act was introduced.
In the video below, you can see how SuRie managed to complete her performance in the Saturday's final, despite being clearly shocked: