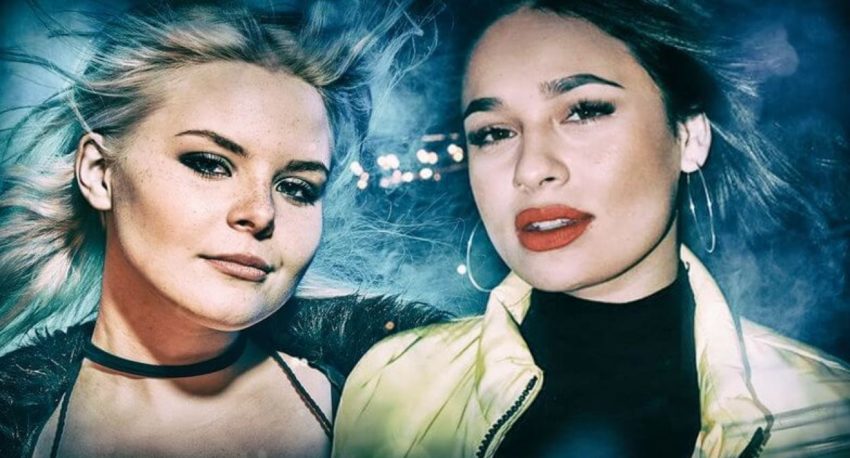 Tonight, the last of the big five countries picked its entry for this year's Eurovision Song Contest. Germany completes the pack with the song Sister sung by S!sters .

The selection process used by NDR, this year was Unser Lied für Israel, and featured seven songs. As a member of the big five, Germany goes straight to the final, so no semi final qualifying worries here.
The Hosts
Tonight's hosts were perennial favourite Barbara Schöneberger, who was joined by Linda Zervakis. Barbara last hosted the German selection in 2017, when Perfect Life by Levina was sent to Kyiv. She has also been the German jury spokes person at Eurovision for the last five years. As well as a very popular television host, Barbara is your all round entertainer having dabbled in singing and acting too. She has released four albums in Germany, the latest being Eine Frau gibt Auskunft in 2018.
Tonight Barbara wore an electric blue dress, with what looked like a fancy swimming arm band around her shoulder.
Linda is a journalist and editor within the ARD family. Linda earned her place at ARD through internship and hard work, taking up opportunities as the stand in host, when possible. Her regular job now is as one of the hosts of the popular German show Tagesschau. Tonight she made her second Eurovision presenting appearance, having hosted last year. She wore a fancy black top and black trousers.
The Show
The show from Studio Berlin Adlershof, began with a flash back to Lisbon last year and Michael Schulte's performance. If you didn't know better you'd have sworn that Germany won last year. Barbara, our host was then sitting at a piano singing a German version of the song. Thankfully we were spared the whole thing from her, as Michael was there out of shot, to pick up before it went too far. The performance ended well with the audience singing along with last year's hero.
Our hosts then met up and it was time to begin. Barbara will need to be especially good now after that singing attempt. She then introduced the shows producer, Peter Urban, who gave us a hearty welcome from the mixing desk. Before each act performed there was a video biography about each of them, with their smiling faces in black and white on the video wall, before they entered the stage.
Michael Schulte began the evenings interval entertainment with an upbeat new song Back To The Start. Lena, Eurovision 2010 winner, followed with a new hair do but the same voice, to sing Thank You – another song about empowerment.
Revolverheld, who don't appear to have any obvious Eurovision connection were next to perform. Their song of choice was So Wie Jetzt from their 2018 album Zimmer mit Blick.
There then followed some clips of already chosen 2019 Eurovision entries from France, Italy, Albania, Czech Republic, United Kingdom, Australia and Spain – so now you know who Germany sees as its main rivals this year.
The final musical treat of the evening, barring the winning song reprise was Udo Lindenberg featuring Andreas Bourani performing Radio Song, with Udo also giving his unique interpretation of Lou Reed's Walk On The Wild Side.
The Songs
Gregor Hägele – Let Me Go
Barely out of school, or so it seemed, Gregor had the honour of opening tonight's competition. He walked to the front of the stage in his classy white T-Shirt. This is a very well sung ballad, almost a little like last years entry, but it has a little more punch about it.  Several backdrops of mountains, hills and trees could be seen in the background. Vocally perfect and impressive, this was an excellent opening song.
Aly Ryan – Wear Your Love
If you just walked in you'd have been forgiven for thinking that this was Ava Max singing her follow up to Sweet But Pyscho. But no its sassy Aly with her power pop effort. All in white, she had two foxy ladies also in white dancing round her. This is a song of shifting moods, brass, hand clicks, a drum beat leading into an edgy chorus. There are several National entries using the brass band technique this year. Aly had lots of colours and lyrics flashing onto herself and her troupe. This had everything in it, in three minutes, apart from a cohesive song.
Makeda – The Day I Loved You Most
This song began with a really melodic piano introduction. Makeda stood there in her gold dress simply singing her song. This has a very appealing melody, with a nice hook and the verses and choruses are wrapped up well. There was no hamster wheels or burning pianos here, just a simple strong song sung with all the passion, Makeda could muster. A totally non predictable choir brought the song to a finish. Very good indeed.
BB Thomaz – Demons
Sitting on a staircase in her tan dress, BB sounds like all five Girls Aloud wrapped into one. This is another song with an above average verse but has a very memorable chorus. BB held her own at the top of the stairs, though you could hear backing vocalists behind her. An audience friendly clap along summoned up a couple of demons, who came charging up the stairs towards BB. However being a strong independent woman, she was able to fight them off.
Lilly Among Clouds – Surprise
Probably Among Clouds, isn't really Lilly's last name, but here is the obligatory National final quirky entry that will likely win since no-one sees it coming. Lilly was a vision in bright red singing a song with barely a tune, but a haunting cello and piano played along. Visions of a younger Kate Bush come to mind. Liily managed to conjure up a mystic fire on the back wall and the way songs are being chosen this year, this has to be in with a good chance of winning.
Linus Bruhn – Our City
The second male of the evening and yet again he looked as if he'd just left school. The song too was very similar to Gregor's – in fact it was hard to tell them apart. Linus sang this very well, and the song had the benefit of an unusual musical background. More positive and uplifting words were projected onto the stage, against a backdrop of an imaginary city. Another good effort.
S!sters – Sister
The final song of the evening saw the stage sisters all dressed in black. They stood on a revolving Loreen like stage apologising to each other for their behaviour towards each other in the past. This was a mildly powerful closing shot tonight with a nice ethnic backing chorus, which might just take the prize in the end. The duo are Carlotta Truman and Laurita Spinelli.
The Results
Linda explained how the winning song would be chosen. Using a school blackboard she told us that the jury would be split into three. Of course the all important German public could cast their vote. To ensure they lean the correct way, there will also be an international (read European) jury and best of all, 100 random panel members, whose only job is to make sure the votes end up with the best song winning.
Someone from the public could win two tickets to the Tel Aviv final, so that lucky person will receive a prize worth more than many lottery winners.
| | | | | | |
| --- | --- | --- | --- | --- | --- |
| | International Jury | 100 Person Panel | Televote | Total | Position |
| Gregor Hägele | 4 | 5 | 5 | 14 | 6 |
| Aly Ryan | 6 | 12 | 7 | 25 | 3 |
| Makeda | 10 | 10 | 6 | 26 | 2 |
| BB Thomaz | 5 | 4 | 4 | 13 | 7 |
| Lilly Among Clouds | 7 | 8 | 10 | 25 | 3 |
| Linus Bruhn | 8 | 7 | 8 | 23 | 5 |
| S!sters | 12 | 6 | 12 | 30 | 1 |
Germany At The Eurovision Song Contest
This will be  Germany's 63rd appearance at the Eurovision Song Contest. Despite being one of the longest competitors, Germany has only won the contest twice. The first time was in 1982 with Nicole and Ein bißchen Frieden which became a huge hit all over Europe after winning. Twenty Eight years later in 2010. Lena also hit  the top with Satellite.
Germany was one of the seven countries to appear in the first contest way back in 1956 and only missed out once in 1996 when Leon and Planet Blue was due to be their entry. However it failed to qualify to the actual Eurovision, and thus was formed the Big 4 at that time, to ensure Germany, United Kingdom, France and Spain never missed out again. Italy was added in 2011, making it the Big 5.
Germany's golden years were from 1977-1983 when they placed in the top ten each year. After dipping out of the Top 10 in 1984, they almost won twice with Wind in 1985 and 1987 when Für alle and Laß die Sonne in dein Herz both placed second.
Recently Germany's fortunes have slipped a bit with three bottom or near bottom places. However last year Michael Schulte came 4th with You Let Me Walk Alone.
.