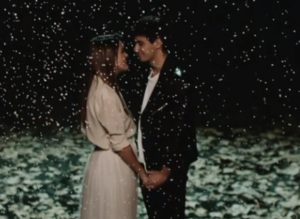 Spain's official broadcaster has just released the music video for "Tu Canción". Earlier this week, RTVE published the final version of the song that Amaia and Alfred will perform in Lisbon allowing room for a better placing within the Eurovision odds.
Seems like everything is looking brighter for Spain after so many years of failed attempts. In fact, just last year Manel Navarro's Do It For Your Lover ranked last during the show's Grand Finale and became a viral meme due to his performance. If we take into consideration the power of the Eurovision Odds, then Spain shouldn't be worried about another last place as that will most likely not happen in 2018. The country is the fifth favorite so far.
Earlier this week, RTVE – Spain's official broadcaster – released the official version of the winning song of their national selection, Tu Canción. While the essence and feeling of the song is still the same, there's an obvious change of tempo and a bigger maturity in the song's production. The violins are not as present as they were in its original version and, in fact, it is a more stripped down version of Tu Canción… Less Walt Disney, more contemporary world.
Today, the broadcaster released the music video for the song. Just like we noticed in the national final, Amaia and Alfred have a great chemistry. The video takes that one step further. It's like those two are the only ones existing. All attention is on them.
Spain at the Eurovision Song Contest
It was in 1961, Spain joined the Eurovision Song Contest, and never once had a break from it, thus is now up at 57 appearances. With only two victories, in 1968, and a joined one in 1969 with three other countries, and five last positions, the country has had quite mixed results. In the last ten years, the country has only twice made top 10 – and that was even two 10th places. They haven't made a top 5 result since Anabel Conde's second place in 1995.
The past three years have been particular bad. Edurne finished 21st in 2015, Barei did even worse with a 22nd place in 2016 – and last year, it went completely wrong as Manel Navarro's Do It For Your Lover finished last with only five points. Hopefully in 2018, Spain will be able to score a better result as they brought back an older successful formula for Eurovision.