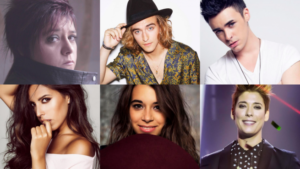 For those of you who like to have plans made months in advance, let's hope you kept your calendars clear for next Saturday. With only a week's warning, RTVE have announced the Spanish final to pick their Eurovision entry 2017, will be held next Saturday, February 11.
Spain have tried everything in the last few years from power ballads, folk songs, rain and dance anthems, yet year after year they are left struggling on the score board.
Can any of this years six contestants, turn the land of beach, fiesta and flamenco's fortunes around, and finally place Spain at the top of the leader board, after 48 years – the same length of time Austria waited to win with Conchita.
Jaime Cantizano will host the spectacular at 22:05 CET, check that it doesn't clash with the other shows of the night.
The six contestants who will be aiming for Spanish glory will be
Manel Navarro  – Do It For Your Lover
Leklein – Ouch!
Paula Rojo – Lo Que Nunca Fue
Mario Jefferson – Spin My Head
Maika – Momento Critico
Mirella – Contigo
Spain being one of the Big 5 will proceed straight to the final. The Spanish fans all over Europe heave a sigh of relieve. Good luck next week. Pick a good one.
Spain At The Eurovision Song Contest
Spain must now lead the countries, who have waited the longest time to win Eurovision. In the late sixties and early seventies, Spain was the country to beat. La La La, Vivo Contando, En Un Mundo Neuvo and Eres Tu all finished in the Top 2, within a five year span. The first two songs won in 1968 and 1969.
Throughout the following years, nobody noticed anything amiss, when songs like Su Cancion, Lady Lady Lady and Vuelve Conmigo, all made the top 3. Heck even Bandido, Bailar Pegados and Sin Recor, could have won with even a few juries just slightly changing their vote.
However, since the introduction of the semi finals, Spain, like the United Kingdom go home empty handed every year. Pastora Soler, who was so well fancied in 2012, only placed 10th, and Ruth Lorenzo equaled that in 2014.
Every other year has been a complete disappointment for the country.  It's time for a change. Spain says Lets Take Eurovision Back. Enjoy Barei's entry from last year SayYay! one more time.