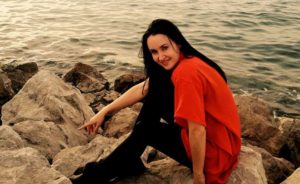 Today Slovenian Television (RTVSLO) announced the names of the acts who will perform in the EMA 2020 from which the winner will represent Slovenia at the Eurovision Song Contest in Rotterdam next May.
The list includes a previous Slovenian entrant amongst nine others who hope to impress the three member jury on 22 February 2020.
Welcome back to Tinkara Kovač who represented Slovenia in 2014 in Copenhagen, Denmark. On that occasion she placed 25th with the song Round And Round. This time around she will be singing a song called Forever. Tinkara will be joined by five other female singers. two males and two groups.
The other nine contestants are
Ana Soklič – Voda
Božidar Wolfand Wolf – Maybe Someday
Gaja Prestor  – Verjamem vase
Imset – Femme Fatale
Inmate  –The Salt
Klara Jazbec – Stop the World
Lina Kuduzović – Man Like U
Manca Berlec –  Večnost
Simon Vadnjal  – Nisi sam
Now these ten contestants will also be joined by two other newcomers. On January 18 ten contestants will compete in what's being called EMA FREŠ. From this list, the top 2 will also feature in the EMA final taking the number of participants to twelve. The contestants in EMA FREŠ are
Stella –  Ne vem, če sem v redu
Younite – The Cure
Alfirev – Črno bela lika
Klarity  – Diham
Marmoris – Moj pristan
Saška  – Še kar lovim tvoj nasmeh
Pia Nina –  Tukaj in zdaj
Lana Hrvatin – Dream
Parvani Violet – Cupid
Astrid in Avantgarden – Sing to Me
Slovenia In The Eurovision Song Contest
This will be Slovenia's 26th year in the Eurovision Song Contest. They debuted in 1993 with the 1X Band and the song Tih deževen dan finishing in 22nd place. After missing out a year, Slovenia returned in 1995 to gain their best placing to date when Darja Švajger  placed 7th with the song Prisluhni mi.. Nuša Derenda equalled that placing in 2001 with Energy.
Slovenia have failed to qualify to the final on ten occasions since the semi finals began. Poor Omar Naber failed to qualify twice in 2005 and 2017.
Last year Zala Kralj & Gašper Šantl placed 15th with the song Sebi.
Below, remind yourself of Tinkara's  prior appearance at Eurovision.