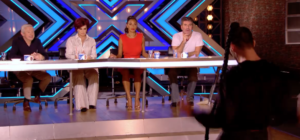 Slavko feels like he is one step closer to becoming the next Beyonce as his fate was being decided by the X Factor judges. His second audition divided opinion this evening as auditionees had to impress not only the four judges but also the live audience at Wembley Arena.
Slavko took to the stage again this evening as the UK saw his second audition for The X Factor UK. This time, Slavko joined the second group of auditionees for Bootcamp. The Eurovision semi-finalist performed Rihanna's Where Have You Been in front of judges Simon, Nicole, Sharon and Louis, as well as a live audience at Wembley Arena in London. In true Slavko style, the Montenegrin also gave an energetic dance routine, which Simon Cowell branded as "nuts". However, former Pussycat Doll, Nicole Scherzinger, leaped to Slavko's defence calling him "an entertainer".
The connection between Slavko and Nicole throughout his performance had been quite evident. In fact, he appeared to be looking straight into her eyes as he was performing. At some point, Slavko left the stage and walked towards the judges, finishing his performance in front of them, literally singing to Nicole the lines "looking for you babe, searching for you babe." In amongst all the excitement, his trademark braid had detached itself at some point. When Slavko realized it had fallen off, he ran back to the stage to pick it up, draping it over his shoulder in the end!
There was some deliberation among the judges. Nicole could be heard that she could see the entertainer in him, whereas Simon could be heard saying that he didn't. In the end, it was down to Nicole to announce that their decision was that they would send him – long pause, Slavko looking tense -… to the next stage of the competition. Slavko had received enough support from the judges to win a place in the dreaded Six Chair Challenge!
Nicole asked Slavko which judge he would prefer to be his mentor. Without hesitation, Slavko said "Nicole", to which she replied: "good answer."
In tomorrow night's show, the judges, will have to judge the Six Chair Challenge alone. This change comes after some people felt that judges were influencing each other's decisions. The Six Chair Challenge is no easy feat. Each contestant must perform again in front of their category's mentor and the studio audience. If the judge likes what they have heard, they will be given one of the six seats. If they don't like what they hear, the contestant will be going home. Once all six seats are full, the mentor in charge of the category must then decide who to swap and replace in the seats if they want to take any further acts through. If a candidate is removed from their chair, their X Factor journey is over.
The judges categories were confirmed this evening and Slavko's wish came true, he will be mentored by Nicole.
The video below is from The X Factor UK official channel on YouTube – watch Slavko's performance from tonight!