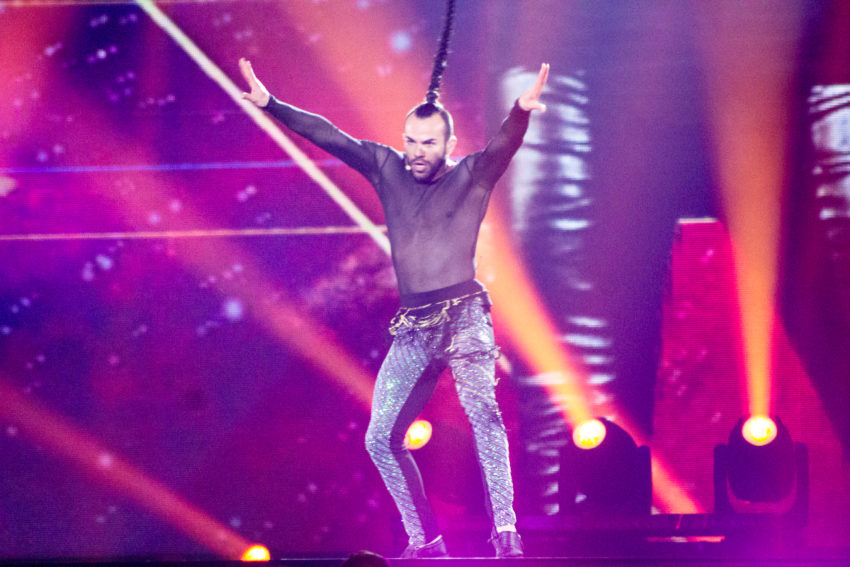 Slavko Kalezić follows in the footsteps of other foreigners like Saara Aalto and Sada Vidoo as he is ready for X-Factor UK. Can he be the first none UK citizen to win the talent show which is among the biggest in the world? This comes just as Panagiotis Koufogiannis won the Greek edition.
Europe was shocked when flamboyant Slavko Kalezić failed to make it past the semi-finals at this year's Eurovision Song Contest in Kyiv. Slavko however took this in his stride. Shortly after his semi-final exit, he announced that he would be writing a book about his Eurovision experience. Not content with only this, he has now followed in the footsteps of former Eurovision hopefuls Saara Aalto from Finland and Danish Sada Vidoo and has auditioned for the X Factor UK in what is rumoured to be the most outrageous series to date.
Kalezić impressed judges Simon Cowell, Nicole Scherzinger, Sharon Osborne and Louis Walsh with his audition and was given a place in the next round of the competition. If the show follows the format of recent years, Slavko will have audition again, this time in front of a live audience before being sent to boot camp. If he is successful he will then progress to the six chair challenge, judges houses and finally the live shows. The start of the series is yet to be aired but is rumoured to be broadcast at the end of August.
X Factor and Eurovision
The X Factor UK has huge links to the Eurovision Song Contest. Last year Saara Aalto wowed the judges and audiences alike and narrowly missed out on X Factor glory, placing 2nd behind Matt Terry. Danish national final participant Sada Vidoo also tried to her luck in the UK edition.
Lucie Jones, UK 2017 participant, became known after being the favourite to win the talent show in 2009. Her X Factor dream however was shattered in the fifth week of the live shows after a final showdown with none other than Irish twins Jedward. The duo represented Ireland at the Eurovision Song Contest in 2011 and 2012.
2015's runner up to the Cypriot national selection Panagiotis Koufogiannis won the Greek X Factor in a dramatic final last night. It is expected that he will make another bid for Eurovision next year following his recent success.
You can remind yourself of the eccentric performance by Slavko Kalezić as her performs his entry Space in Kyiv.