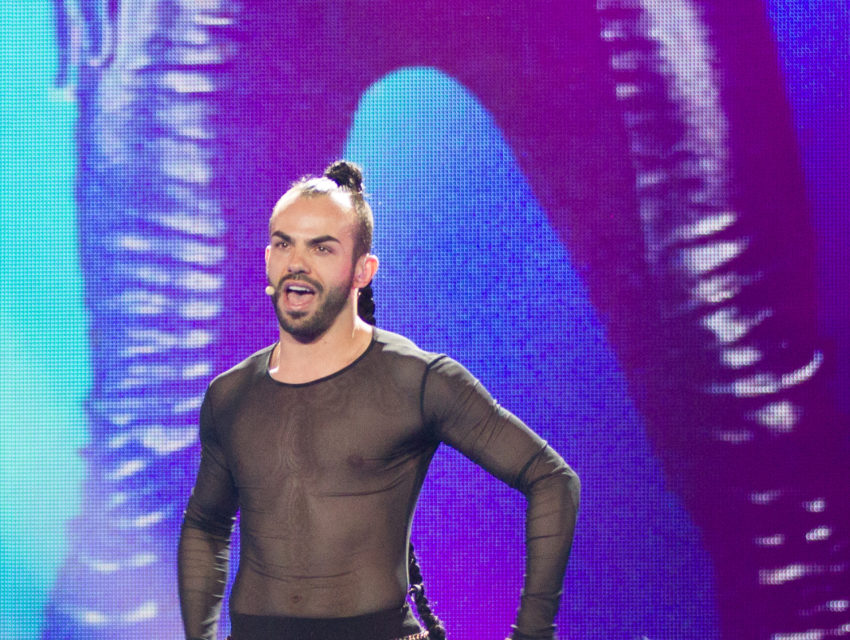 Montenegrin singer, Slavko Kalezić may have missed out on a place in this year's Eurovision Song Contest, yet that hasn't put him off achieving his dream of superstardom.
No stranger to the X Factor franchise, Slavko previously auditioned for the Adria version of the show, reaching the Judges Houses stage of the competition. During that edition, he was mentored by former Eurovision Finalist, Zeljko Joksimovic.  While he wasn't successful in the show, he did release an album the following year and even appeared as a guest singer with his song Krivac.
His dream is not over and this weekend saw him reaching another milestone in his career, auditioning for the original X Factor in the UK. Auditioning with Beyoncé's End of Time, the same song that brought him to the attention of The X Factor Adria judges but with one noticeable difference – Slavko's now infamous style (for which he won the Barbara Dex Award) and his trademark hair braid.
Slavko gave an impressionable performance with his dance moves and flicking his hair to and fro. After the initial shock of seeing this flamboyant performer, Nicole Scherzinger and the Montenegrin singer were on the same linguistic wavelength as she found her 'inner diva' in Slavko. Simon Cowell was speechless, while we discovered Louis Walsh (Brendan Murray's manager)  met Slavko at Eurovision and was his inspiration to travel to the UK for the audition. The X Factor is always known for its novel acts, and, over the years, we have seen many, such as Chico, Same Difference, Wagner and Jedward, all of whom have gone on to have varying degrees of success. The latter also competed at Eurovision in 2011 and 2012; on both occasions, they qualified to the final for their homeland of Ireland and, in 2011, even reached the top ten with their song Lipstick.
Confusion and dazed faces from Simon aside, Slavko was successful in tonight's X Factor audition getting three out of four judges to say 'yes' and prompting Simon to admit 'he had never seen anything like that'. Slavko moves on to the following stage of the competition. We will see him next at Bootcamp, where he will sing alongside all the successful auditionees for a place at the dreaded 6 Chair Challenge.
How well will he do?  Stay up to date with all the latest on Slavko's X Factor journey with us here at Eurovisionary!