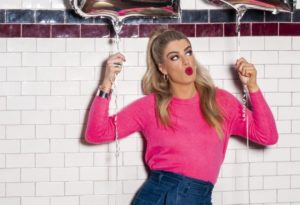 The silence have been broken. Ireland finally presented Sarah McTernan as their artist for the 2019 Eurovision Song Contest. This follows a period with very few rumours, a fake story and no official news – until today.
It has been almost worrying waiting for Ireland's entry this year. As we got closer and closer to the deadline for submitting entries for Tel Aviv, we still lacked Ireland. No song, no participant and not even a date for publication came out from the broadcaster. Did they still intend to participate? We assumed so, but the lack of guesses from the fans told the same story about everyone waiting impatiently. Finally, an Irish newspaper had been given the exclusive story that it was Janet Devlin to represent them. Many seemed to believe this exclusive until Janet herself went out denying it. We were back to the beginning with no information – aside from that we now knew of an Irish media who brought a fake story as their exclusive!
Today, we now know that it will be Sarah McTernan to represent Ireland at this year's Eurovision Song Contest in Tel Aviv, Israel in May. The participating entry is titled 22. You can listen to it in the video below:
Ireland at the Eurovision Song Contest
With seven wins, Ireland still holds the record as the most winning country, although they must be able to feel Sweden breathing at their neck. Ireland haven't won since 1996 – while Sweden won three times since then and is now at a total of six wins. With Ireland's latest results, it seems obvious that if they don't pull home a victory very soon, Sweden will soon equalise their 7 wins.
Last year, Ryan O'Shaughnessy finished 16th with the song Together. For Ireland, just reaching the final was important as their acts had failed to do so in the previous four years. In fact, since 2005, Ireland reached the final seven times and failed just as many times.