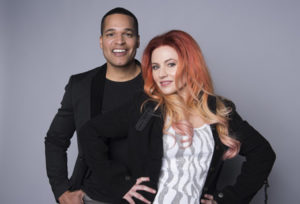 Sanmarinese public service broadcaster SMRTV has just announced that it will be represented in Eurovision 2017 by Valentina Monetta & Jimmie Wilson with Spirit Of The Night. The artist and entry song were selected internally. This will be the fourth time that Valentina is selected to represent the country!
This will be the eighth time that the tiny republic will be taking part in the Eurovision Song Contest. San Marino has only managed to qualify once to the Grand Final in thepast. This was back in 2014 when, representing the country for a third time in a row, Valentina Monetta managed to proceed past the semi-final stage of the contest.
This year, San Marino will be competing in the Second Semi-final. Spirit Of The Night is composed by Ralph Siegel and its lyrics are by Steven Barnacle and Jutta Staudenmayer. The composer has won the Eurovision Song Contest in this capacity back in 1982 and has penned all of Valentina Monetta's past entries for San Marino.
Could Valentina, aided by Jimmie Wilson this year, take the country to the Eurovision final of 13th May yet again? See what you think of the 2017 Sanmarinese entry in the video below.