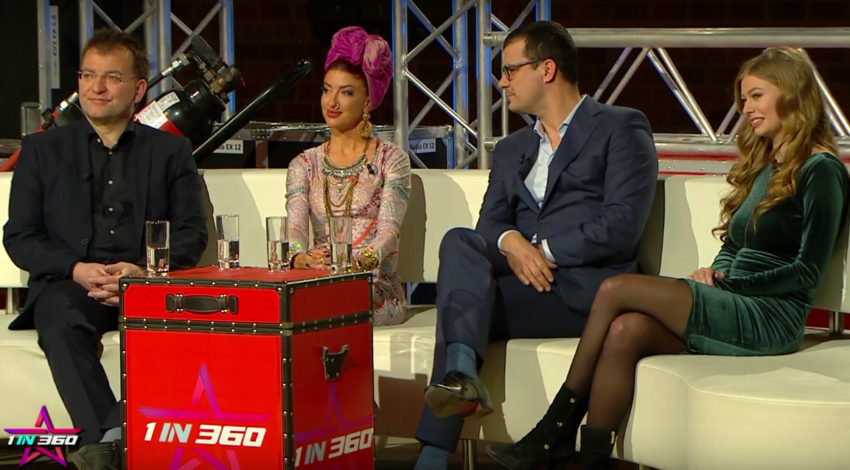 The search has officially begun in San Marino's unprecedented national selection, 1in360. The eleven finalists have all taken the 1in360 stage in Bratislava, Slovakia and performed an acoustic version of one of their songs.
While being pleased with all the candidates, there was an obvious preference towards Sara de Blue and San Marino's Irol.
The journey for San Marino begun in October of last year when the broadcaster – SMRTV – announced a national selection hoping to bring better results for the microstate who has only been to a Eurovision Song Contest Grand Final once, in 2014.
Even though it can be seen as something amazing and glorious, 1in360 has faced a few challenges. Not only many accused the event of being fraudulent but more recently, its official YouTube channel was closed after two former competitors reported it due to copyrights.
Through ups and downs, the production finally reunited the eleven best and most popular contestants and took them on a journey including a trip to Austria to write and record the competing songs. A second trip was made to Slovakia, where the first two shows were recorded.
Tonight, 1in360 officially uploaded the show's first episode to its YouTube channel where the eleven competitors took the small stage to sing one of the two songs they were given. All of them performed an acoustic version of it in front of the judges and no one was eliminated as 1in360 will not have eliminatory rounds.
The Show
Nick Earles – the show's main host – was joined by Kristin Stein who was in charge of the backstage moments. Onboard with the two hosts were a four piece jury panel composed by Austria's Zoë Straub, English songwriter Neon Hitch, the entrepeneur Ladislav Kossár and San Marino's head of delegation Alessandro Capicchioni.
Without much interruptions, the songs started being presented one by one. After each performance, the judges would critique each act and song. A backstage moment was followed where the contestants would reflect on the criticism.
It's worth mentioning that the contestants did the backing vocals for each other.
The Songs
1. Emma Sandström – Diamonds
Emma had the huge responsibility to introduce the audience to this revolutionary competition by opening the show. The Finnish singer ended up not delivering her best performance yet and the judges accused her of lack of emotion despite her Pop song being all about empowerment and to shine bright like a diamond.
2. Irol – Stuck Without Me (feat. Jessika Muscat)
Irol is the only singer from San Marino and that ended up influencing the country's head of delegation who clearly focused on the fact that he knew Irol. His collaboration with Jessika was surely a highlight that scored positive comments from every judge due to its energy and feel good vibe.
3. Giovanni Montalbano – Per Quello Che Me Dai
Giovanni was the only singer that performed a song completely written in Italian. Zoë had no negative comments to say about his performance that was quite flawless yet pointed out his need to learn English. Per Quello Che Me Dai is a powerful ballad that is very well complemented by Giovanni's pleasant vocals.
4. Sebastian Schmidt – In The Moonlight
This German boy took the stage to perform a very happy Pop love song. Despite coming off as a bit generic, the judges agreed that Sebastian is one of the acts with the biggest commercial appeal.
5. Judah Gavra – Stay
When it comes to powerhouse ballads, it was Judah who brought it to the game. The judges had mixed feelings about his performance. Ladislav Kossár went as far as naming it "boring".
6. Tinashe Makura – We Are One
He is the only act coming from outside Europe. Tinashe performed a love song dedicated to his wife back in Zimbabwe that could easily be confused with a lullaby – at least in its acoustic form. He called it a very personal song and the jury did appreciate his effort.
7. Jessika Muscat – Who We Are (feat. Irol)
Maybe for being her song, Jessika delivered amazing vocals during her second performance and had Irol joining her again. It is perhaps one of the most evident Pop songs that has a good balance with Rap despite Alessandro mentioning he wanted to listen more Rap parts in it.
8. Sara De Blue – Until the Morning Light
Neon Hitch rightfully said: "You set the bar high". Sara brought in vocals, emotions and one of the best productions to the 1in360 stage. The juries were very impressed overall and praised Sara's vocals and dedication. On the other hand, Alessandro Capicchioni had the need of saying that something was lacking.
9. Jenifer Besky – I'm Sorry
While being an amazing vocalist, Jenifer's song was quite generic and surely not a wow factor for the competition. The judges noticed that and had mixed feelings about her performance blaming the song choice for it. Zoë is sure, nonetheless, that she'll bring a better number next week.
10. Franklin Calleja – Best Years of Our Lives
Franklin's register is out of this world. His song was the English version of Giovanni's song and, just like the Italian singer, Franklin really impressed the jury who had nothing but good comments for him.
11. Camilla North – Free Yourself
The groove was saved for last. Camilla took the stage and performed the grooviest tune out of the bunch. Not all judges were impressed but she surely made them shake their feet to the rhythm of her song.
Coming Next
In a week's time, 1in360 will broadcast its second episode where the 11 contestants will perform an acoustic version of their second song. At the end of the show, Zoë and the remaining judges will decide which song each contestant will take to the final round that, for the first time, will be broadcast live and will feature each song in its original form.
If you haven't watched the show yet, go ahead and check it in the video below. If you prefer to watch the performances individually then click here.
San Marino At The Eurovision Song Contest
This year, San Marino is really making an effort to try to improve their past results. So far they have only made the final once in eight attempts. From these attempts, it was one of four Valentina Monetta entries, which saw them into the final of 2014.
The country was really unsure if they would take part in the competition this year as they feared there's no space for small countries in the show. With this unexpected national selection, they certainly hope things will change.