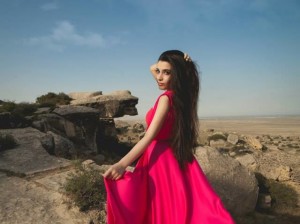 National broadcaster from Azerbaijan, ITV announced that they will reveal their entry for the 2016 Eurovision Song Contest on March 14th. Today, however, INFE Azerbaijan reported that their 2016 representative in Stockholm will be Samra Rahimli, a young singer that reached 4th place in the Voice of Azerbaijan.
Azerbaijan, along with Bulgaria, are the two countries that will announce their entries last for the 2016 Eurovision Song Contest. Today however, the local Eurovision fan club INFE Azerbaijan revealed in their official Facebook page that the artist who will wave their flag to Stockholm is Samra Rahimli.
Samra became famous after her participation in the last edition of The Voice of Azerbaijan where she ended 4th. She also tried to represent her country at the 2012 Eurovision Song Contest in Baku, but was eliminated in the first heat of the Azerbaijani national selection, Milli Seçim Turu which was organised by Azerbaijani broadcaster İTV, in order to select their artist for the Eurovision Song Contest 2012, which was held in their capital, Baku.
You can watch one of her performances in The Voice of Azerbaijan below
We'll have to wait until 14th of March to see if the rumours will be confirmed and if Samra Rahimli will be the artist that will be internally chosen to go to Stockholm.
Below you can watch Elnur Huseynov performing his entry Hour Of The Wolf at the Eurovision Song Contest 2015, which ended in 12th place