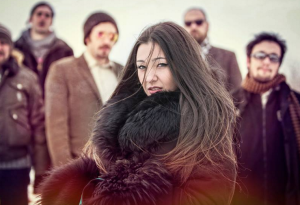 After the confirmation today that it will be Sanja Vučić and her band ZAA which will represent Serbia at the 2016 Eurovision Song Contest, the local OGAE fanclub have released a short video clip of the entry. The entire song will be premiered on the 12th of March.
The other day local media reported that Sanja Vučić had been internally selected to represent Serbia at the upcoming Eurovision Song Contest. The song was mentioned to be titled Shelter. Today came then the confirmation that it is indeed Sanja, but as ZAA which is the name of the band she plays with. The title of the song for Eurovision is not Shelter however, but Goodbye.
The song is mentioned to be premiered on the 12th of March at 21:00 CET, however a small video clip now appears on OGAE Serbia's Instagram channel.
Serbia in the Eurovision Song Contest
Serbia have appeared at the Eurovision song contest seven times, debuting as an independent country in 2007 and winning on it's first attempt with Marija Šerifović and Molitva. Since then, the other half of their entries have finished in the top ten with Željko Joksimović and Nije Ljubav Stva doing best with a third place.
Last year, after missing out of the 2014 contest, Bojana Stamenov sang Beauty Never Lies, the first Serbian entry to be sung in English. That song you can listen to in the video below.