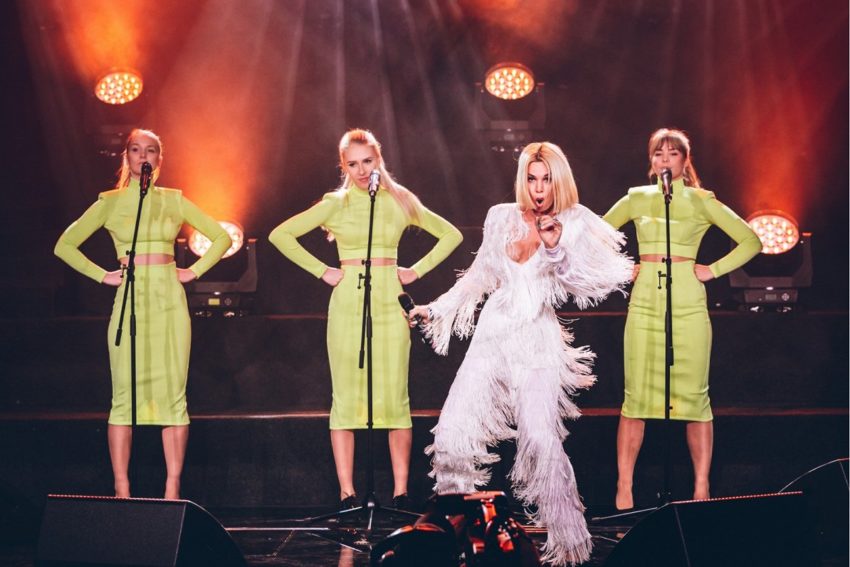 Tonight. Latvia held their infamously named Supernova 2020 final and have chosen Samanta Tina with the song Still Breathing to represent them at the Eurovision Song Contest 2020 in Rotterdam, The Netherlands.
This year Supernova has been shortened to only one final episode, as opposed to transmitting the two semi finals. Not to worry, one show should be enough to produce a winner.
The Hosts
Tonight three hosts guided us through our Supernova.
Toms Grēviņš has been a regular host of Supernova. Despite being only 37 years old. Tom has been a regular on Latvian Television, now for thirty years.
Ketija Šēnberga  is a television host, broadcaster and journalist in Riga. She got married in 2012 to Jānis Šēnbergs.
Beta Beidz is a well known influencer in Latvia, who may be sublimely trying to influence the public into what song to choose, without them knowing.
For some reason Toms and Ketija started the evening in matching peach coloured costumes, while the influencer looked on bemused in black. Lots of talking of course opened the show, before it finally began in earnest.
Gerūta Griniūtė was one of the judges, how could that be – she was on judging Lithuania at the same time????
The Songs
Seleste – Like Me
This is a swaying country style type of song which is hardly the dynamic to open a contest. Seleste is very young and Supernova is a good place for her to hone her craft. This though is the same type of mournful stuff that they sent last year with Carousel and That Night – there doesn't seem to be many laughs in Latvia. Seleste was in a black bra and grey trousers making good use of a stage prop.
DRIKSNA – Stay
Free from My Radiant U or You, this is a rousing little song, with a song title so original that it's never been used before. Having said that snide little remark this is a pretty good attempt, with a chorus that would get the lighters out in the audience. DRINSKA was joined by four female backing singers who helped to enhance the chorus very much.
Katrīna Bindere – I Will Break Your Heart
This song starts with a few hand clicks, sort of like Tina Arena's Chains but doesn't keep the energy throughout the whole song. The title is better than the song deserves. Katrina is one of the best looking ladies in National finals this year, but it shouldn't be enough to send her to Rotterdam. She is dressed in a nice light pink dress tonight
Edgars Kreilis – Tridymite
Now this is more like it. A very powerful song sung by an excellent singer. This has a killer chorus and very good lyrics, with a very Swedish sounding song and instantly likeable. This will be heartbreakingly awful if it doesn't win, but unfortunately for Edgars, there is another big wheel to come later. While in Lithiunia, Edgars has been treating himself to a top ten haircut and learning from Donny Montell with the white leather jacket. A joy.
Katrīna Dimanta – Heart Beats
This is a big jazzy number from the ex Cake To Bake singer, but the song is no better than her last one. Sure there is a bit of the gypsy sound to the chorus, but the whole song is a disjointed mess of different rhythms and rhymes. Fine for a pub with lots of jangling glasses so it can merge into the background. Katrina had an old wedding dress on tonight and was accompanied by four backing musicians.
Miks Dukurs – I'm Falling for You
This is a well enough sung ballad, clearly Miks singing it personally to someone. A bit of Adult Contemporary night time music which probably goes down very well in Latvia.
ANNNA – Polyester
This is the sly little song that's going to come between the big guns, Edgars and Samanta. This song about the clothing industry's contribution to climate change is a niggling little song, easy to believe that it would be a good entry for Latvia. However Latvia, take note you don't have a good past history of picking a winner so tread with caution. This was very colourful and enjoyabel though so it could sneak through.
Bad Habits – Sail with You
Latvia's most rock band entry for this year – well its maybe a bit more bluesy than rock. This is an excellent song for a band in a pub as it would go down very well there. No better or worse than any of the other songs.
Samanta Tīna – Still Breathing
On the surface it looks as if this should be Latvia's entry this year, despite some tough competition. Since Latvia started calling their selection process, Supernova, and let's face it, it's just a banner name for a National final – but anyway only Aminata songs have managed to qualify for the Eurovision finals. This is a partly penned by Aminata song and is again probably Latvia's best chance this year. Samanta is great and is another who deserves to go to Rotterdam. It's just a shame if this wins, that Edgars misses out again. Tough call this year.
Latvia In The Eurovision Song Contest
We all know the story of Latvia's great debut in the contest in 2000 with Brainstorm and My Star, followed by a winner in 2002 with Marie N and I Wanna.
Well Latvia need to get themselves a grip as the last time they were in the final was in 2016 with Justs and Heartbeat. The prior year, Aminata gave them there best result in forever when Love Injected placed 6th.
Latvia have failed to qualify to the final, ten times since semis were introduced in 2004, and since the start of Supernova, only songs written by Aminata have made the final. Report card says Much Improvement Needed.