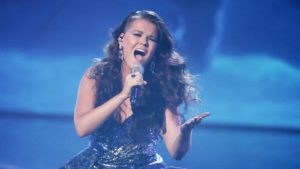 Saara Aalto will represent Finland at the Eurovision Song Contest 2018. The national selection show Uuden Musiikin Kipailu has been completely turned on it's head in a surprising announcement today.

Third time lucky, Saara Aalto has finally got her chance to shine. She will represent Finland at the Eurovision Song Contest which will be held in Lisbon, Portugal next year. The suprise announcement was made today by Eurovision.tv.
This year the national selection show UMK will be completely turned on it's head. Rather than selecting the participant. The public along with the jury will be selecting Saara's Song. Saara will perform three songs composed specifically for her. Of these three individual songs the viewers and international juries will get to choose the best one to be performed at the Eurovision Song Contest in May 2018. The selection process will be broadcast live from Espoo Metro Areena on 3rd of March.
Saara is no stranger to UMK, competing twice in the competition with self-penned songs; first in 2011 with Blessed with Love and then in 2016 with No Fear, placing second both times. She also participated in the X Factor UK which propelled her into superstardom in her native Finland. Aalto came 2nd in the competition and shortly afterwards became a judge in the newly revised Finnish series.
Krista Siegfrids will be co-hosting the competition along with Mikko Silvennoinen.