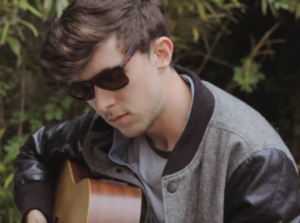 After months of speculation, whether Ireland would send a vintage Punk Rocker or a Folk duet, broadcaster RTE today confirmed they have chosen the Dublin born Ryan O'Shaughnessy. He will represent the country at the 2018 Eurovision Song Contest.
25 year old Singer/Songwriter Ryan O'Shaughnessy has been chosen to represent Eurovision's most successful country, with seven wins, at the 63rd edition in Lisbon. He will the song Together at the first semi-final hoping to make it to the final. The song is expected to be released within the coming weeks.
Ryan came to fame in 2001 when he started his media career as an actor on the long running serial drama Fair City, based in his home city of Dublin. Although Ryan is better know for his singing ability than his acting career, at least in the UK.
Ryan gained attention in 2012 when he first auditioned for The Voice Ireland, making the live finals, where he was mentored by former Irish Eurovision representative Brian Kennedy. Simultaneously he had auditioned for Britain's Got Talent, singing his self penned track No Name. He received great response from the audience as well as praise from Simon Cowell. He made it to the live Grand Final of that year's competition where he placed 5th behind eventual winners Ashleigh and Pudsey (the dancing dog).
Below is his Britain's Got Talent Performance:
O'Shaughnessy went on to release a self titled album, which reached the top 10 in the UK album charts and reached number one in Ireland. He also released his Britain's Got Talent audition song which peaked at number 3 and 31 in Ireland and the UK respectively.
Four missed finals in a row
This is the second year that Ireland is sending a young male solo artist. Last year, Brendan Murray gave Ireland hope that they may reach the final for the first time in four years, but couldn't quite make it in Kyiv. Can Ryan bring Ireland back to the final for the first time since 2013, when coincidentally it was another Ryan (Dolan) who qualified for the island nation.
We at EuroVisionary will keep you up to date with the latest news on the release on the Irish entry.