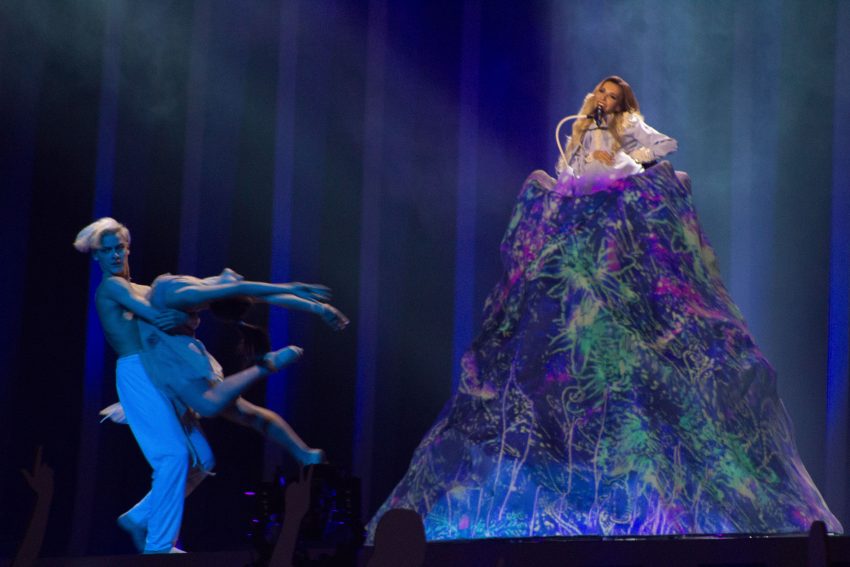 Julia finally has arrived on the Eurovision stage after all last years controversies. A huge welcome to her, with the background of the poor vocals shambles in Moscow, the expectation on what she will deliver was high. Add to that, the pressure of Russia always managing to qualify – all eyes has been on Julia in both her first and second rehearsals.
I Won't Break
, which is written by Netta Nimrodi, Leonid Gutkin and Arie Burshtein.
Interview
Gallery
Second rehearsals
Opinions expressed during our second rehearsal coverage are personal from the mentioned writers.
Jens Erik, Denmark (in the press center) I admit, it does sound better at the second rehearsal than it did at the first one some days ago. But I still don't think, that Julia's voice is strong enough for Eurovision. The song itself is sweet and pleasant, but unfortunately for Russia is not a song you remember, when you cast your vote after hearing 18 songs. It could be the year Russia wouldn't qualify for the first time ever.
Michael, United Kingdom (in the arena) The power house that is Russia sends this fragile gentle song this year, even if it has an empowering message. The verses are not an issue and the chorus sounds much better now. The dancers are a waste of space, they could have sent two more singers instead. After hearing it in the arena, had it been any other country thus would not qualify. It is on the borderline.

First Rehearsal
The press room fell silent as the Russian rehearsals started. Only one question was on everyone's minds – was she sitting on an iceberg or a mountain? Julia started singing with no issues but soon that chorus came in, and it's now clear that the words I Won't Break are simply impossible to sing in tune. This song must surely come on after a break as it will take forever to set up the staging.
Julia looked very small on the large stage, so to help she filled up some of the space with two ballet dancers. Several countries have tried that trick before, yet none have had any success with it, so it's unclear why Russia would do that. However by the time you ponder that question, the chorus is back and you wonder what notes will be sung this time round.
The verses are quite melodic, the writers obviously weren't seeing the difficulty of the chorus even if it only has there words. This is Russia, anyone brave enough to say that it will be it's first non-qualifier, or are we already wondering will it be in the first or second half of the final. So there it is, pick a note and go for it, I Won't Break.
How Julia Samoylova was selected
Julia was already selected to represent Russia at the 2017 Eurovision Song Contest, but following an illegal entry to Crimea, host country Ukraine denied her access to their country. EBU was unable to deal with the situation, and as such Russia withdrew from the contest.
Shortly after, Russian broadcaster stated they intended
to let Julia Samoylova represent them in 2018 – and that they lived up to and internally selected her for the Eurovision Song Contest in Lisbon. Her song I Won't Break was revealed in March.
Russia at the Eurovision Song Contest
In 1994, Youddiph represented Russia in their Eurovision debut. She finished 9th in the final and is a part of Russia's impressive 12 top 10 results in just 20 appearances. In the five years from 2012 to 2016 included, the country never did worse than a 7th place.
Since the introduction of semi-finals in 2004, Russia never failed to qualify from the semi-final to final. They won the Eurovison Song Contest once, in 2008 with the song Believe where Dima Bilan represented the country for a second time. The country however four times ended up in second place; first in the year 2000 where Alsou's Solo only lost out to Denmark's Olsen Brothers. In 2006, Dima Bilan came second, and the same happened to Party For Everybody in 2012 and to Polina Gagarina's beautiful A Million Voices in 2015.