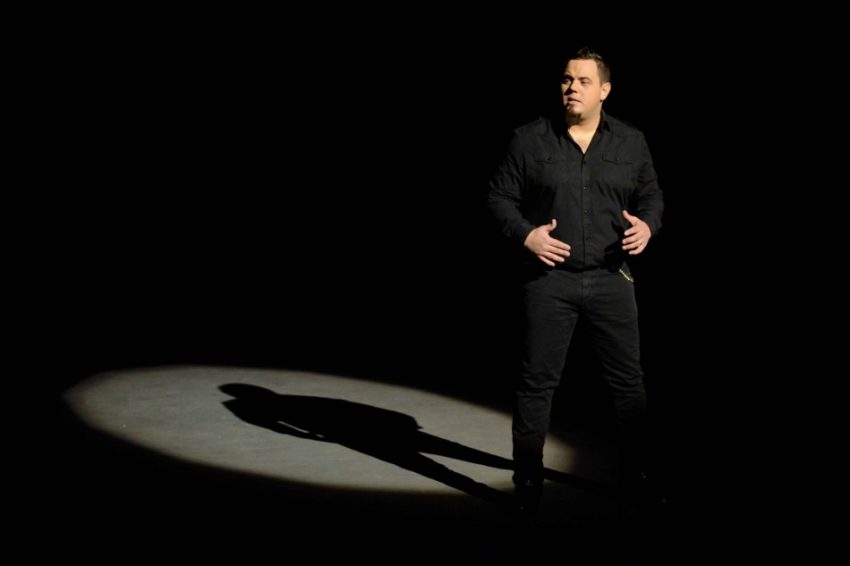 Today Ovidiu Anton, Romania's representative for the 2016 Eurovision Song Contest, has released the official 3-minute clip for his Eurovision entry Moment Of Silence. The video was initially used as a presentation clip for the Romanian national final back in early March but now turns into official material for the big contest in Stockholm.
Romania's 33-year old hopeful finds himself in a large and dark room, only enlighten by headlights which are colouring the area in red and white. Basically the whole music video only consists of Ovidiu, standing in this place and moving his hands to the music in order to add a dramatic and dark atmosphere which is also conveyed by his song. Instead of distracting the audience's attention with the help of a well-produced music video, the Romanian representative Ovidiu Anton tries to concentrate on promoting the message and the song itself. As mentioned this clip was only planned to be a presentation video for the national final at first but now has been submitted as the official music clip to Eurovision's YouTube channel. Down below you can find the 3-minute video. Let us know your opinion.
UPDATE: We were informed by Ovidiu Anton that the music video that was uploaded on the Eurovision channel was in fact the wrong video and therefore has been removed. You can still watch the promo video from the TVR channel, and we will update you once the official music video is released.
Romania at the Eurovision Song Contest
The country from Southeast Europe has made the final in every year since the introduction of the semi-finals back in 2004. Further Romania could reach a place in the top 3 in 2005 respectively in 2010. The country debuted in 1994 with Dida Dragan's Nu Pleca and since has only submitted 6 songs in the native language, being represented 14 times by a song with English lyrics. Last year the Romanian pop and rock band Voltaj finished 15th in Vienna. In our video down below you can check out the highlights of the last 6 years, including many memorable Eurovision moments such as Cezar's dracula performance back in 2013: