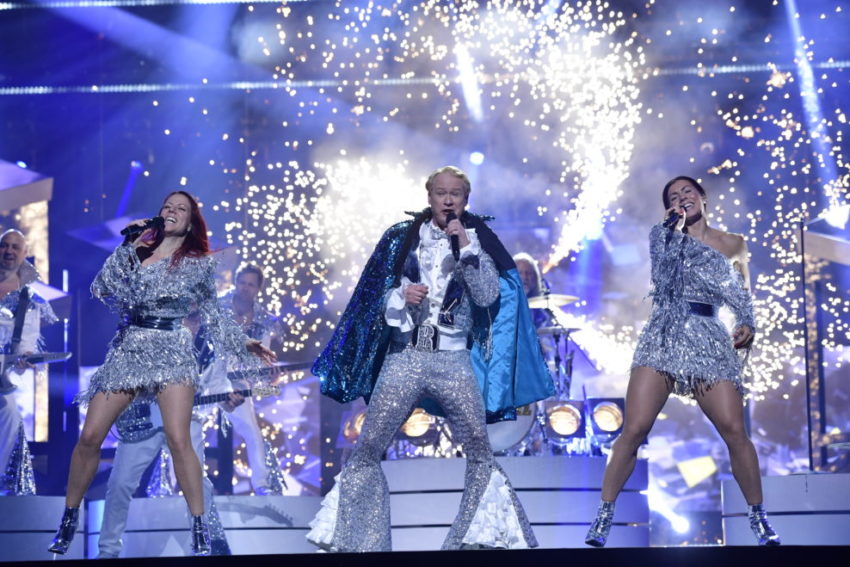 With Rolandz and Mariette just winning a spot in this year's Swedish final, 8 out of 10 acts are now ready to fight for the honour to represent Sweden at the Eurovision Song Contest in Lisbon, May.
Tonight, Sweden had reached their fourth and last regular heat. All 28 acts have now been on stage, all songs and any secret moves are out in the open, and it is time to speculate – what will Sweden choose for the 2018 contest? Let's take a closer look at what happened tonight, and the selection so far.
When you have a singer as host, it's obvious that he or she sings, and David Lindgren is no exception. Tonight's show kicked off with a performance of This Is Me from the soundtrack of "The Greatest Showman".
As Rolandz was surprisingly announced as direct qualifiers their leadsinger fainted and was carried to the stage by many times Eurovision Stage Manager Henric von Zweigbergk. We can only guess what will happen if they actually win the final.
Tonight's result
As usual there are two two voting rounds in Sweden. First they eliminate two acts who finish in 6th and 7th place. After that, another voting determine the two qualifiers, two more for a second chance, and the unfortunate 5th.
| | |
| --- | --- |
| Result | Act |
| To the final | Mariette |
| To the final | Rolandz |
| To Second Chance | Olivia Eliasson |
| To Second Chance | Felix Sandman |
| 5th place | Elias Abbas |
| 6th place | Emmi Christensen |
| 7th place | Felicia Olsson |
Tonight's songs
Emmi Christensson – Icarus
This song is inspired by the Greek myth about Icarus and his dad Daidalos who, in an attempt to escape their captivity, made their own wings, and flew out the window. While the dad managed to fly to another island, his son flew to close to the sun. As his wings melted, Icarus died. Tonight's performance uses both the sun and burning wings on display behind Emmi, who is dressed in black with a big trail. Smoke is added to the show as well. A graphically beautiful performance.
Elias Abbas – Mitt paradis
Do you miss your high school parties? Elias take you back to that time – which isn't difficult for him as he is just 16 years old, and this year's youngest participant. Question is now, do you want to be on the dance floor dancing to this one, or will you join him on stage? Elias, wearing a bright orange bomber jacket style, is joined by two dancing couples. He starts out sitting down, but quickly gets up, and from then, he barely stand still.
Felicia Olsson – Break That Chain
This song has a chorus that might just get stuck in your head, and Felicia look so sweet and innocent on stage, dressed in a black raincoat, which she quickly takes off and continue in black trousers and a dark green sparkling top. She is alone on stage, but plenty of smoke, a wind machine and plenty of flashing lights in various colours, is also enough to back her up.
Rolandz – Fuldans
Glam schlager! This combination between glam rock and traditional dansband schlager is a bit unusual. Plenty of glitter on their outfits, and fireworks on stage is used to back up this entry, though it is being reported that due to safety reason, there isn't as much as the band would have wanted. Hard to imagine. Lead singer is backed up by backing two backing singers, and a band consisting of drummer, two electric guitar players and a keytar player. As in Eurovision, the music isn't live so any musicians are just miming.
Olivia Eliasson – Never Learn
Ever wondered if you should own a neon green running outfit for when you run in the evening? Stop wondering, just don't. Let's just leave this colour to Olivia and her up to four dancers. She is dressed in black with neon green strips, and her dancers match that with being all in green, thank God, they only join half way into it. It might work for this, or it might not, let's wait for the Swedish TV viewers to decide, but don't copy this on your next running trip. Fans of the TV show "Breaking Bad" might suddenly find themselves thinking of Walter White.
Felix Sandman – Every Single Day
Less is more, or is it? That's up to the Swedish TV viewers to decide, but it is the recipe Felix is ready to bring to this year's Melodifestivalen final. This performance stands out in all its simplicity. Felix doesn't need a bunch of dancers, glitter, neon colours or flashing lights to shine. The song is carried through only by his voice. He is sitting down on lights, shaped to look like speakers, in the beginning. Quite unusual, he is using a studio microphone, which he holds on to, until he stands out and it is placed in the stand. A very strong performance.
Mariette – For You
With her previous Melodifestivalen experience, Mariette was one of the favourites to make it to the final. In tonight's performance, she was raised up on a platform from where she could overlook the entire audience in the arena. She starts down sitting on it, but quickly gets up. To communicate with the audience at home, she had a good eye contact with the camera, and several times made it clear that it was YOU at home she was singing to. Mariette was dressed in denim trousers, a short white top and a hairband. Quite casual. This one is visually strong as well.
Final line-up
The 8 direct qualifiers will in the final be joined by two others coming from the Second Chance contest, which will be held next Saturday.
John Lundvik
Benjamin Ingrosso
Samir & Viktor
LIAMOO
Jessica Andersson
Martin Almgren
Mariette
Rolandz
Second chance line-up
In each of the four preliminary heats, the acts who finished third and fourth qualified for the Second Chance heat.
Renaida
Sigrid Bernson
Margaret
Mimi Werner
Moncho
Mendez
Olivia Eliasson
Felix Sandman
Previous heats
The other three heats have offered some good songs, but this fourth heat came across as the strongest of them all. If you do want to check up on the others, please follow the links below to each one of them.