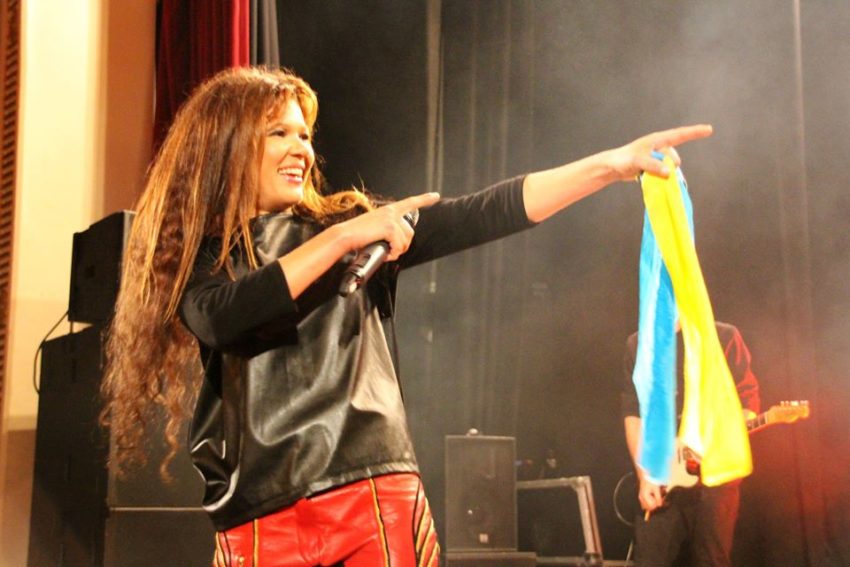 As part of the 70th anniversary celebrations of the Association of Ukrainians in Great Britain, 2004 Eurovision winner Ruslana recently visited the British capital. We caught up with her for a chat about the past, the present and the future – and we listened as she carried out her agenda.
When the first Ukrainian Eurovision winner Ruslana recently visited London, her schedule featured a concert, but also chats with press and fans. It wasn't just to sign autographs and offer selfies with the fans, Ruslana had an agenda as she was keen to hear thoughts on the upcoming Eurovision Song Contest to be held in Kyiv, May 2017. She wanted to talk about topics like propaganda, production and planning.
Ruslana's agenda
Propaganda: When international travelling fans visit Ukraine, there is strong advice to ignore the propaganda. Ruslana stated that she, along with everyone else on the organisation committee want to use the 2017 Eurovision Song Contest as a positive experience, an experience that will bring many people together who should all enjoy their time there. She also mentioned that she wants people to visit places of interest such as Maidan Nezalezhnosti and St Sophia's Cathedral without the fear of being targeted with extremist propaganda.
Production: As Sweden and Germany have put on excellent shows recently, SVT and ARD have been asked to send experts to meet with representatives of the host broadcaster (NTU), the mayor of Kyiv (Vitali Klitschko), and the Ukrainian head of delegation (Victoria Romanova). They will advise the production team in Ukraine on what they are able to do within their space and to make sure their shows comes in on or under budget. Everyone wants a fantastic show, but they do not want to blow their allocated production budget in order to do this.
Planning: Many meetings have been held, the host city battle took place, different government departments met to discuss what needs to be done . Several plans have already been approved with more set to be finished by the end of the year. Final plans for security are also to be submitted before the end of 2016. Vitali Klitschko holds weekly meetings with the organising committee and has regular contact with Jon Ola Sand and other EBU executives, so they are able to discuss developments, and plans which have been agreed or disagreed.
Video
Below you can see our video containing an interview with Ruslana where she talk about the past, the present and the future. Clips and photos from the concert is included as well.
Organiser thoughts
The day after, it was time for Ruslana to show that she is still a great performer, just as when the won the Eurovision Song Contest in 2004 with Wild Dances, and she managed. She gave an energetic performance which included classics such as Wild Dances and the follow up single Dances with Wolves. She also performed some traditional Ukrainian Folk Songs and upbeat songs such as Shalala, Tse Lubyov, Hopak, Chervona Ruta and Kolomyika.
The crowd went wild for both versions of Wild Dances, both English and Ukrainian, everyone was up on their feet. If this night was anything to go by, the Ukrainians know how to party.
Martyn Chymera, External relations director for the Associations of Ukrainians in Great Britain, and the lead organiser of this memorable event: "It was fantastic to have Ruslana to perform a concert as part of the Association of Ukrainians in Great Britain's 70th anniversary. Ruslana exuded energy and drive throughout the performance which featured a wonderful mix of traditional Ukrainian folk songs and modern pop. Ruslana is a remarkable Ukrainian woman. As well as being a talented musician she is an energetic activist, fighting for Ukrainian independence, the protection of the environment in Ukraine and and end to corruption amongst other things. We're grateful to Ruslana for an evening which was enjoyed and will long be remembered by so many people." Martyn lead the organisation of this cultural event with the Association of Ukrainians in Great Britain London branch chairman, Volodymyr Pawluk, and many other AUGB directors.