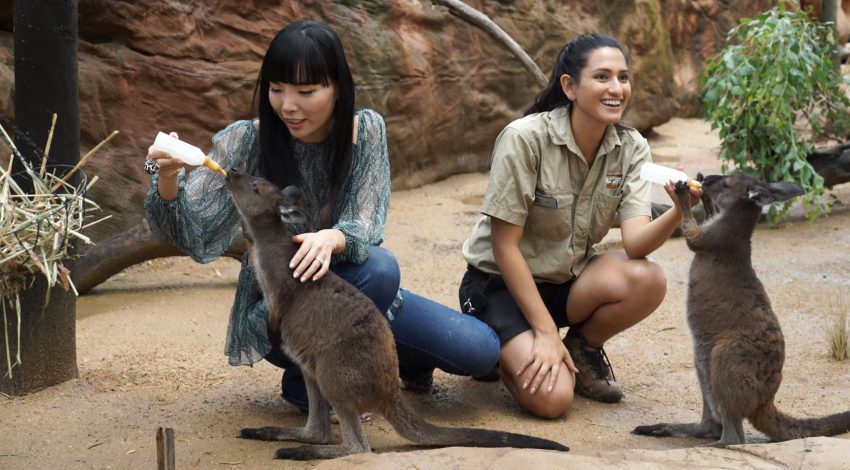 The second semi final dress rehearsal of the Eurovision Song Contest 2016 took place this afternoon where the postcards from each of the countries were revealed for the first time. As before a dandelion shaped like a champagne glass opened the videos with each country's name displayed at the end of the video.
Latvia
Justs likes to wear his red leather jacket. It's with him everywhere including his postcard. He is standing on a castles borders with a view of Riga in the background. Of course he later is seen with his guitar but also shows he is a master of the guitar too. A little skateboarding sees him end on the cobbled streets before he takes a visit to the mall, before it closes as night descends over Riga.
Poland
Michal stands on the pier but can't resist hiring a bicycle for a cycle towards the sea. Like Justs, Michal also pays a visit to the shopping mall, but there is not much money spending taking place, as he looks in to the camera. Off to the park to feed the squirrels, and then relax by the tree. Little children spotting Michal all alone decide to let him let off their red and white balloons in to the sky, ending a wonderful Krakow day.
Switzerland
Rykka isn't afraid of the cold, up the Jungfrau and has come prepared for an afternoon's ice skating. After an exhausting hour, she's back from the heights to relax in a coffee shop and staring from a massive chair.  The lights go out in Berne and Rykka's off to enjoy herself at a night club.
Israel
Is Hovi looking over the balcony of the  Azrieli Center Circular, at the start of the postcard looking towards Tel Aviv. Back on solid ground he takes his dog a walk along the promenade. Later friends talk him into going for a game of bowling, which seems unlikely, as surely Hovi will be worried about breaking a finger nail, There he is though holding a bowling ball though there is no evidence of him rolling it down the alley. Tel Aviv descends into darkness.
Belarus
Is Ivan really taking his pet wolf for a walk, or is it a large husky that he's standing with in the woods. Ivan is playing drums and doesn't twirl into dust, instead he;'s bringing his lady some nice white flowers, when they meet in Minsk square. The night-time falls in Minsk.
Serbia
Sanja starts either in a school or university's corridor before we see her dancing by the banks o the Sava or the Danube river. Back to class and she's sitting all alone looking at a blackboard, This girl likes to get an education. No wonder she can speak five languages. She wants you to stay in school, but soon it is night-time in Belgrade.
Ireland
Nicky is sitting in a gym with a load of musical instruments behind him. Preferring sports, he's soon in the Irish football team strip and walking through the tunnels to the football field. He is then seen strolling though Dublin's huge national library, before heading to the record shop, only to be shocked that he's not in the best-selling section.Soon it is dark in Dublin and time to head to Temple Bar.
FYR Macedonia
Standing posing in the center of old Skopje, Kaliopi is soon in a music shop learning to play flute and violin. Next door in a trinket shop, she is obviously buying something for Jamie-Lee from Germany, as jumps for joy after sh;es found something suitable, in the headwear line. Skopje peacefully turns to evening.
Lithuania
Donny starts of in a Vilnius church before heading outside to view the colourful statues in the town Standing on the bridge of Vilnius castle, he is seen taking his wife and daughter out for a day of historical sight-seeing. Donny has to go for a game of his favourite sport, basketball. His daughter needs to get tucked into bed as night falls.
Australia
Walking under Syndey's aquarium, Dami is in the mood to see the koala's at  Taronga Zoo, looking back over towards the Sydney Opera House. The rain ends the day for her but after it dries up Dami is happy to sit on Macquarie Point staring out at the beach. A last glimpse o Sydney Harbour Bridge end s the day.
Slovenia
Looking out from Ljubljana castle, Manuella goes for a cycle towards the local school. Is she really drinking a beer as she meets the cheer leading team, particularly the drummer. She decides she wants to lead the group and get the baton out and the cheer leaders costume on, as they march in the square.Night falls over the Krim mountain in the back ground.
Bulgaria
Poli is seen in the streets of Sofia and heads straight for the tattoo parlour, though whether she got a tattoos unclear as she is only seen posing at the door. Of she heads into the car with her friends driving recklessly as they head up to the hills. After several group photos, its time to head back to Sofia before it gets dark.
Denmark
Posing in a room, Nyhavn can clearly be seen in the background. Of course the trio get on bicycles and make their way around Copenhagen's bicycle routes.They are then seen singing in a room while nightfall descends over the Mølleåen river overlooking the National library.
Ukraine
Jamala is standing staring in the Kyiv streets. Before long she is helping to make chocolates at a chocolatier. She packs them up and heads out into the woods.She then puts traditional ribbons in her hair. After hanging around in the fields for a while they head back to Kyiv before it gets too dark.
Norway
Agnete is sitting in an ice buggy before shooting off at high-speed over the ice.To fend off the cold she lights a fire, and then gets dressed in a traditional Norwegian costume. To end the video she is joined behind her by a Norwegian Sami tribe waving the Norwegian  flag.
Georgia
The Georgian band are standing in a building before getting together to play. You can see them looking into the town, and they get together for a barbecue lighting a fire and having kebabs.This group aren't too much intooposiing and soon its time for Tbilisi to shut down.
Albania
Eneda stands  posing on the hill-side before getting into a car. She is heading for a night club, where she is seen performing for an appreciative audience. Back to-day time she is seen playing with her daughter out in the fields. At night-time you can see some waterfalls , and then it gets dark in front of Tirana's pyramid.
Belgium
Laura is standing between two brick walls and can't resist trying to climb up them. She heads out to an art gallery but the beat in her feet is too much, and before long she out dancing again in the Charlemagne building. As with all the other postcards, nighttime descends on the capital city.