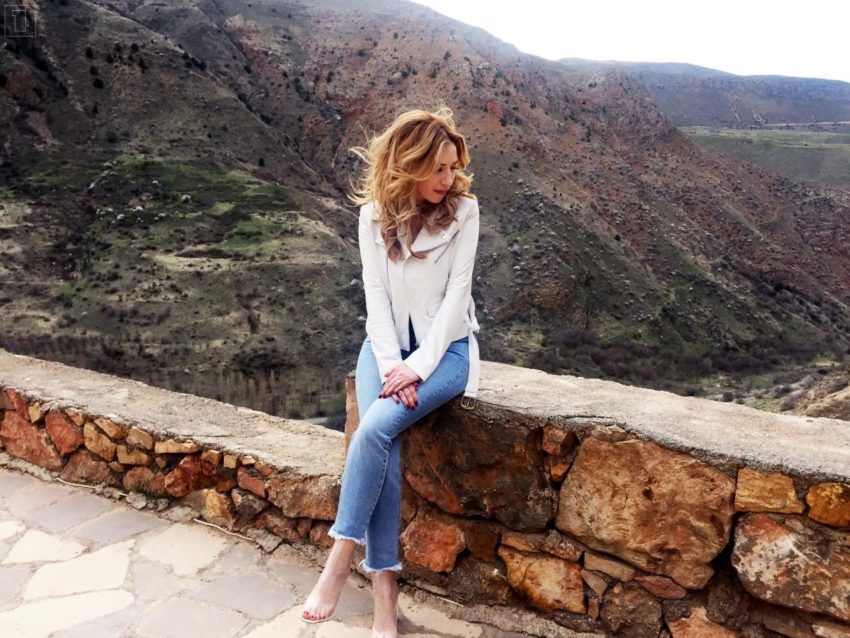 Today at the first dress rehearsals for the first semi final of the Eurovision Song Contest 2017, we got the first chance to see the postcards that will introduce each act.
The postcards are a mix of being filmed in the acts home countries, with a piece about them in Kyiv. You can read about them below.
Sweden
Robin and his boys are seen standing backstage ready to perform. The video cuts to him rehearsing. He is then seen having fun in a video arcade. The video then cuts to him riding cross country on his motorcycle. He does this for quite a while, before it cuts to him doing the finger gesture, that he and the dancers do in the stage performance.
Georgia
Facing to the left, in what again looks like backstage, Tamara is dresses in her red cape. Her backing singers are standing behind her, which is the first time you ever get to see them. Tamara takes a walk to a Georgian castle,and after an exhausting hike, she relaxes in a cafe. Not for too long though, as she is soon seen running in a garden, which is being watered. She is soon seen in the studio, singing. One final glance and Tamara is ready.
Australia
Isaiah is seen standing back stage with the Australian delegation. It cuts to him getting in a car and driving the long roads of Australia.It cuts again backstage, before Isaiah walks on stage, only to discover there is a bright blue starry sky. You then see him getting on an aeroplane for the long flight to Kyiv.
Albania
Lindita starts posing, offering the heart shape from her hands. Her backing singers stand behind her. This video is all about Lindita's work out regime.  It starts with her, in a bright pink hoodie going for a run up a hilly road. A shot of a violin is then cut to Lindita exercising in the gym, in the park, in the studio. Anywhere she can, You then see shots of her red carpet dress being made. Finally she enters the stage.
Belgium
Blanche stands staring at the camera, in her elegant white dress. This postcard is all about art and elegance, as she is seen at a classy piano and an elegant drawing room. Blanche is also seen studying in a class room. Before long she is on a couch painting, and looking very serene. The press photographers are keen to shoot her too. It ends with her walking towards the stage.
Montenegro
Slavko is pouting with his entourage back stage. He is then seen having his stage costume made, Then he stands on a stage and starts dancing and twirling. He is then seen in a garden, taking part in some yoga. Finally he goes for a walk before arriving on stage.
Finland
Norma John's day goes like this. They stand staring at the camera. After that they stand by a wall, with a nice tree in the foreground. Then they head to a piano, then a couch, then they take a walk. Back to the piano, they hug each other. They try on sunglasses, more playing piano and then they head to the stage. We want to be Norma John.
Azerbaijan
Dihaj and her troop are of course standing all arty and ,moody at the beginning of the postcard. This one is all about musicianship as she heads to the music store to hang out with the violins, pianos and drums. The groups are celebrating soon at a bar, and what better way to end the day, before going on stage, than to get yourself tattooed.
Portugal
Salvador is seen in the biggest book shop of all time. After choosing a book, its time to take the funicular up to the studio, to play the drums and piano. He is seen sitting with his sister, Luisa, at a bar, enjoying a wine. Then just back in time to get on stage.
Greece
Demy is backstage, and yet seconds later she is fast asleep.Waking up to a nice warm coffee, she casts us a smile. Thanks Demy, Soon she is going for a gentle walk in the garden before getting more active at the gym. Soon she is climbing a hill and resting by some trees. She then walks on to the stage.
Poland
Kasia stands like all those before her, smouldering back stage. Soon though she is of in a recreational vehicle for a day in the country with her animals.  You can see her walk all her dogs. She is then seen attending a concert with an orchestra.However the devil in Kasia sends her back to the country, where she has a good jump around in all the mud. However all clean, she heads to the stage.
Moldova
After staring back stage, the Sunstroke Project head to the record store, for a good browse amongst the vinyl. They have a drink and a dance, before heading out to the park for some busking. They are seen performing live on some stage, practicing for their performance at Eurovision.
Iceland
Svala is seen out at a host of Iceland's main attractions, including the Blue Lagoon and the geysers. While taking a break from the sigh seeing she can be seen in the studio, and partaking in her other hobby, dress making. She's seen lying on her bed reading a book, having a coffee ,before getting ready to come on stage.
Czech Republic
After seeing Martina and her crew backstage she is off for a meeting. She travels by the Metro, good for her thinking of the environment. Martina enjoys having a drink with her friends in a cafe outside. Seems she's having something orange. It's not all play though as she heads for a session in the studio. A boat passes by and before long Martina is ready to perform.
Cyprus
Hovig is walking past a white house with lots of glass windows. He must enjoy the view, as he is seen looking out of the window many times. He plays on his guitar while enjoying the peace and quiet. He gets more social later at a club, and with his dancers, he dances on to the stage.
Armenia
They have Artsvik up in a hot air balloon, enjoying a view of the hills in Armenia. Straight to Kyiv andyou can see her driving around the city, enjoying all the sights. Of course a bar is involved and before long, her team is enjoying red drinks.
Slovenia
Omar walks to a huge hall, which he enters and starts to sing. He takes a walk along the city, all by himself. Eventually he meets up with friends in a coffee bar. Afterwards on the walk home, Omar visits the local markets.
Latvia
The band begin back stage like all the others. They then go for donuts on a roof top. A jamming session follows before they head to perform.
Spain
This video was entirely filmed in Kyiv. Manel is up visiting all the sites, St Sophia's Cathedral, the Kyiv eggs. Still he has time for a quick game of football. Of course he is also seen jamming with his guitar. Too soon it's time for him to sing on stage.
 Italy
Francesco beckons a waiter, who looks remarkably like him. Then another look a like is washing glasses and juggling apples or tomatoes. Oh wait, it's the old rascal himself, playing football before dancing on to the stage with his ape.
United Kingdom
Lucie primarily does some posing in a modelling studio. She is wearing a long red dress. The staging is apparently so intricate, it takes forever to get it on stage. It also apparently takes too long to get off stage. She has to be on last.