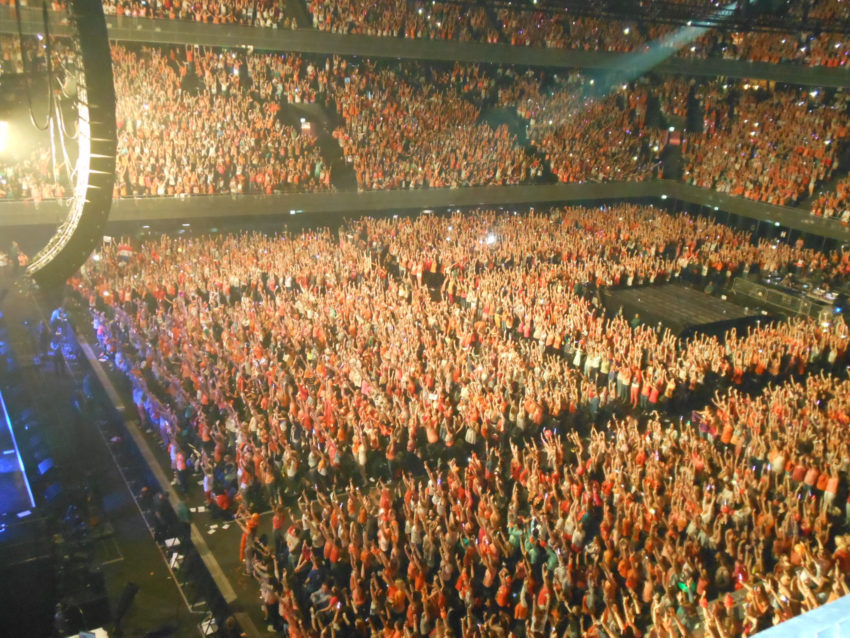 The Netherlands will have quite some options when deciding upon next year's host city. Some are more likely than others though. We take a closer look at the arenas that already are, or could come in play, as host for the 2020 Eurovision Song Contest.
Let's be honest, the Netherlands already started their preparations for the 2020 Eurovision Song Contest a few months ago. With Duncan Laurence being the bookmaker favourite right from the presentation of the song Arcade, Dutch cities already started announcing themselves as a host candidate.
In the past few weeks up to the live shows in Tel Aviv, Israel, the Dutch were excited. The general population in the country talked about the Eurovision victory as it being a done deal already. "So, Eurovision is coming up, and we're going to win it", several people stated, not as an opinion, but as a fact. These were the average Dutch people who normally have no greater Eurovision interest, and some also admitted that they actually hadn't heard Arcade yet. They hadn't heard the song, but they had heard that the Netherlands would win this year.
So, now that it happened, that the Netherlands won and as such will host the 2020 Eurovision Song Contest, let's take a look at the cities that can actually host next year's show:
Amsterdam
The Dutch capital with 860.000 inhabitants is an obvious choice. With the Schiphol Airport close by, it will be easy to get to for most delegations, press and fans. Amsterdam is a popular destination for tourists when it comes to a city holiday in Europe. Hotel capacity is no issue in this city.
With a capacity of 17.000, Ziggo Dome would be very suitable for Eurovision. It has excellent parking and public transport connections, and is part of the nightlife triangle, with many hotels, bars, pubs and restaurants between Ziggo, ArenA and AFAS Live. There will also be good options for press facilities in immediate connection or very close by.
If you want to go even bigger, the football stadium Johan Cruijff ArenA could be an option too with a capacity which reaches above 50.000. As it is close to Ziggo Dome, everything there also applies here.
Amsterdam could create something close to the perfect Eurovision in this area. Ziggo Dome or ArenA as show venue, AFAS Live as Euroclub and the big open square just outside could be Eurovision Village. Everything right next to each other. What more could a Eurovision fan wish for?
Rotterdam
Just like Amsterdam, Rotterdam would be another great option. With 630.000 inhabitants, the city is the second largest in the Netherlands. Contrary to Amsterdam, the city was almost completely destroyed during a bombing attack by the Germans in 1940. The city has been rebuilt and is therefore mainly dominated by 1950's and 1960's concrete buildings.
Ahoy Arena hosted the Junior Eurovision Song Contest in 2007. It consists of three halls. The major one with a capacity of 15.000 and two smaller ones with space for 6000 and 4000. This gives the great option of having the arena and the press centre in the same building. Something delegations, journalists and fans all will appreciate.
The Hague
With 510.000 inhabitants, The Hague (Den Haag) is the third largest city in the Netherlands. Contrary to many other countries, the capital in the Netherlands is not government city. The Hague has that role.
ADO The Hague Stadium could host Eurovision. The stadium currently has no roof though, but that can be fixed as it was in for example Parken in Denmark for the 2001 contest. Back in April, the city expressed an interest in hosting the 2020 Eurovision Song Contest.
For The Hague, we would also have to mention World Forum Den Haag (formerly Statenhal, formerly Nederlands Congresgebouw. It hosted the Eurovision Song Contest in 1976 and 1980 (They hosted in 1980 when Israel rejected). It was partially demolished in 2006 to make room for a nato building, and now has capacity of 5.000. That would most likely be considered too small and as such shouldn't really be an option for Eurovision 2020 though.
Utrecht
This is the fourth largest city in the Netherlands with its 350.000 inhabitants. It is by far the easiest to get to, with a very short walk from Utrecht train station – the most central train station in the country. You can take a direct train to Utrecht from virtually every city in The Netherlands.
Jaarbeurs Utrecht is a large complex which features 11 halls. It is not commonly used for concerts, but it did host Thunderdome – a large techno event with audience size up to 40.000. Though it's not an obvious Eurovision arena due to the many halls, engineers can create something quite unique here. Just think about how the Danes for the 2014 contest turned an old shipyard into one of the best Eurovision arenas in many years.
There are other going out  places in the area, including musical theatre Beatrix Theatre, which can be used in various ways as a part of the event.
Arnhem
Located closer to the German border, we find Arnhem with 150.000 inhabitants. It's cut through by the Rhine. This city was also almost completely destroyed during the Second World War as it was frontline in 1944 during Operation Market Garden.
GelreDome Arnhem is a soccer stadium with a capacity of 40.000 people. It already has a roof, which furthermore is darkened so it can be 100% dark. This roof makes it ideal for a TV production like the Eurovision Song Contest.
Maastricht
Close to the border to Belgium, we find Maastrict. The city has around 125.000 inhabitants. In 1992, the European Union as we know it today was founded here as the Maastrict treaty was signed in the city.
The city has spoken out saying that they are interested in hosting the 2020 Eurovision Song Contest. Capacity however might be an issue here as it is a bit on the smaller side. Their Mecc Maastrict exhibition centre has 30.000 m2 divided onto four halls. The largest of them, the Euro Centre, is listed to have a capacity of 5000 delegations for conferences.
So there you have it, a list of possible locations for the 2020 Eurovision Song Contest. Some are more likely than others though. We would hope for an arena with a capacity of around 15.000 – 20.000 people for a show like the Eurovision Song Contest. We would also like it to be in direct connection to the press centre where we hope for a working area with space for 1500 journalists. Since the Netherlands haven't won since 1975, and not hosted the contest since 1980, it will be a highly popular event making it a shame to make it smaller.