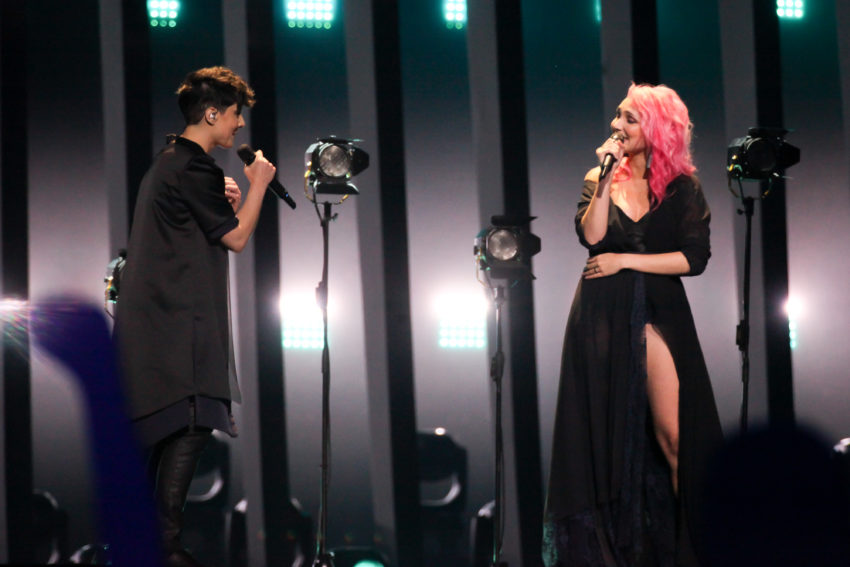 It may not be as touching as Salvador Sobral's performance last year yet Cláudia and Isaura surely delivered a very intimate performance and a show stopping first rehearsal. With a few stage adjustments, they may do well in their home country.
Semi-Final 1 Dress Rehearsal
Cláudia Pascoal and Isaura got to rehearse one more time as well during this evening's dress rehearsal. This time around, the two Portuguese singers wore what seems to be the final staging dress. As for the performancs, only a few adjusments were made. Check their new outfit below:
Gallery
Performance at Euroclub
Second rehearsal
Opinions expressed during our second rehearsal coverage are personal from the mentioned writers.
Pedro, Portugal (in the arena) I believe it's obvious Portugal is trying last year's formula with a very intimate performance again. From the first rehearsals, the main change were the lights on stage. Cláudia is wearing a somewhat different outfit, even though it is similar, and is again joined by Isaura. While the transition from Cláudia to Isaura worked better this time from the screening views, live it still needs work as it is too fast and doesn't go along with the song's mood. Vocally, Cláudia was flawless. I truly like the intimacy of the performance and I still hope the transition to Isaura is soften up a bit overall.

Jens Erik, Denmark (in the press centre) After all the props, special effects and pyros from all the other countries, this might be what we need. A calm, quiet, peaceful and very emotional performance. The lightning is just perfect. It's very simple just like the song, and the lanterns look great. Many of this year's ballads struggle to go underneath your skin, this one doesn't. Thankfully Cláudia has changed her outfit and now wears something much more appropriate – if it is the actual clothes for the live show. I believe in another great result for Portugal this year.
Interview
First rehearsal
Don't expect Portugal to deliver a very elaborate performance, especially now that they know it is not the recipe for success (take Salvador Sobral's perforrmance). It's weird but it looks like Altice Arena turns into a private jam session when Cláudia starts singing. It's like she's all alone and people do get caught up in the moment.
On top of that, Cláudia has a very dramatic way of singing and that'll surely catch people's attention at home. To add to that, she also looks very pretty and elegant on her outfit. Probably not qualified to win Eurovision this year but qualified not to rank last.
Towards the end, Isaura joins Cláudia on stage for the final chorus, this time not on a chair but just next to her.
How Cláudia Pascoal was chosen
It was a quite controversal national selection, something that has become quite often in Festival da Canção.
Plagiarism accusations took place and Diogo Piçarra, the main favorite, ended up withdrawing from the competition days before the final show. On top of that, during the show's finale there was a tie between Cláudia Pascoal/Isaura and Catarina Miranda. Nonetheless, the rules said that whoever won the public vote, would win the show in case of a tie and luckily for the duo, that was them.
Portugal at the Eurovision Song Contest
This year will mark the 50th participation of Portugal in the Eurovision Song Contest. Having participated this amount of times, only last year Portugal won the contest for the first time with Salvador Sobral's Amar Pelos Dois.
Even though it found great success with Salvador, Portugal hadn't yet had a really successful entry this decade. Not only the country didn't take part in 2013 and 2016 due to its poor results, but it failed to qualify every other year aside from 2010 with the song Há Dias Assim. Hopefully the country won't go back to its dark days after finding glory.